What is the Difference Between Interstate and Intrastate?
Last updated Wednesday, August 17th, 2022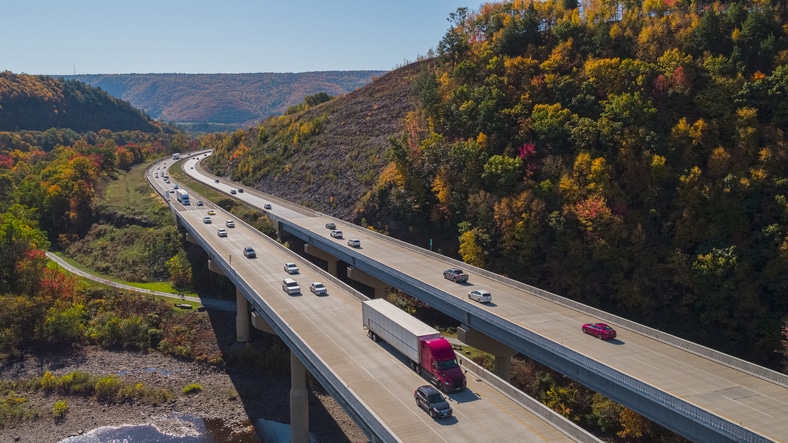 What is Interstate vs. Intrastate?
The terms interstate and intrastate are often confused when it comes to the trucking business. The two forms of commercial travel are different, so it is important to understand how they differ, especially when it comes to a truck accident and the legal ramifications that result.
Understanding the differences between interstate and intrastate trucking may seem complicated but it's less confusing than it seems.
At its most basic level, here is the difference:
Interstate trucking carriers transport loads across state, and country lines. These trucking companies are required to register with the Federal Secretary of Transportation and are required to adhere to Federal Motor Carrier Safety Association (FMCSA) laws and regulations.
Intrastate trucking carriers transport loads within the state they started in. They follow individual state laws.
Unfortunately, truck accidents happen with both interstate and intrastate commercial vehicles. Since truck accident legal cases are a specialized style of lawsuit, it is important to look for a lawyer who has handled several similar cases in the past.
A representing lawyer needs to have the knowledge and resources to handle liability litigations against large trucking companies, truck manufacturers, and commercial insurance companies, to name a few. He or she also must understand how the laws differ depending upon whether the truck operates interstate or intrastate, and if intrastate, the laws of the state where the accident happened.
If you find yourself in a situation where you have been involved in an accident with a transportation truck, we can help you navigate through the process. We offer a large variety of information, available easily and in minutes from our website. Or you can call us for free legal advice on your case.
Have you or a loved one been hurt in a Truck Accident?


An experienced Chicago truck accident lawyer knows what needs to be done. The minute you sign with Shuman Legal® – we start working.
Examples of Interstate Trucks
There are many examples of trucking companies that operate interstate, transporting loads through more than one state and/or country. These trucks sometimes are larger because they carry larger and heavier loads.
A few examples of typical interstate trucks include:
Tractor-trailer – A transport vehicle consisting of a semi-tractor and attached trailer
18-wheeler – The combination of a tractor unit and one or more semi-trailers to carry freight that typically has 18 wheels
Semi-trailers and semi-trucks – The combination of a tractor unit and one or more semi-trailers used to carry freight. A semi-trailer attaches to the truck with a type of hitch called a fifth-wheel
Reefer trucks, otherwise known as refrigerated trailers – Include several additional parts and insulation to keep the truck cold, including an evaporator, condenser, compressor, and the reefer engine attached to the trailer that runs the HVAC system
Flatbed trucks – The attached trailer has a flattened bed without sides
Dry vans – A type of semi-trailer that is enclosed to protect cargo from the elements, yet is not temperature controlled like reefer trucks
Tanker trucks – Used to transport liquids, such as chemicals, liquids, gases, beverages, and dry goods, such as grain
Examples of Intrastate Trucks
Not every commercial vehicle needs to cross state lines. Many types of trucks that require high-level licenses operate close to home.
A few examples of intrastate trucks include:
Moving vehicles – Any vehicle that is used in the transportation of household goods, office goods, and special commodities in intrastate commerce
Garbage trucks – Used to take away garbage and waste that people put outside their homes, businesses, etc.
Tow trucks – Used to remove broken-down, disabled, illegally parked, impounded, or otherwise indisposed motor vehicles
Dump trucks – Used for moving material such as sand, gravel, or demolition waste to or from construction sites
Delivery trucks – A truck or van designed for delivering products to customers
Concrete mixing trucks – A truck that delivers either dry or wet concrete materials to mix and pour concrete at construction sites
Box trucks – A truck with a separate box-shaped cargo area
Bucket lift trucks – A utility truck that uses a hydraulic boom with a bucket attachment to lift a person safely to reach high areas
Why Would it Matter to Know the Difference?
It's important to know that there are different sets of laws for interstate and intrastate trucking businesses. The laws that govern a trucking company, truck driver, and the truck itself are different for semi drivers that travel over state borders compared to those that operate in a state.
Interstate trucking companies are governed under the Federal Motor Carrier Safety Association (FMCSA) laws. The primary mission of the FMCSA is to reduce crashes, injuries, and fatalities involving large commercial vehicles. FMCSA regulations take precedence when a truck hauls loads over more than one state, which gives a regulated set of laws to follow rather than having to know the laws for each individual state that they travel through.
Intrastate trucking companies are governed under individual state laws, and those laws and regulations vary from state to state. Often state laws and regulations are similar to the FMCSA regulations, but can have important differences.
How are Interstate and Intrastate Similar?
Even though the regulations are different for interstate and intrastate commercial drivers, there are still some ways in which they are similar. After all, the goal of creating these laws and regulations has always been to ensure safe operating procedures. Some requirements are the same across the board for inter and intrastate operations regardless of where a truck does business.
Requirements that all trucking companies have to abide by include:
• CDL requirements
• Insurance coverage for commercial trucks
• Drug and alcohol testing
• Transporting hazardous materials
• Driver qualifications
---
Get Our Team, Working In Your Favor