Five Reasons to Hire a Truck Accident Attorney
Last updated Wednesday, August 17th, 2022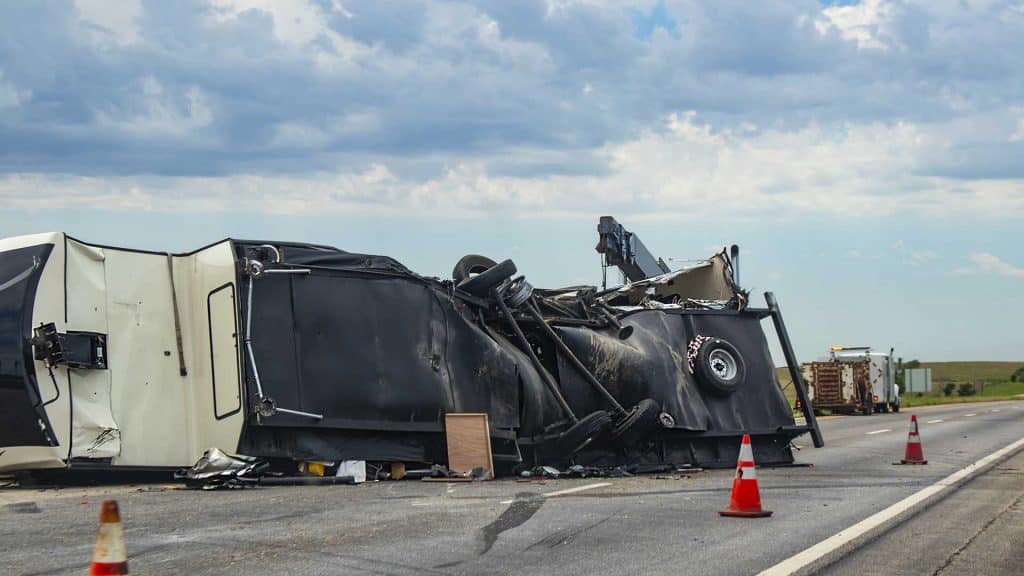 Why You Should Seriously Consider Hiring a Truck Accident Attorney
If you've been involved in an accident with a large commercial truck, you'll find out quickly that this is not like a normal auto accident and that you'll need a truck accident attorney.
Did you receive a serious injury or did you lose a loved one that was a passenger in the vehicle? Is your vehicle damaged or even totaled and a complete loss?
After the crash, you're left to figure out how to proceed and we understand that it's an incredibly difficult process. If you want to be sure the person at fault is held responsible, you'll need to know what rights you have as an injured party, and how best to proceed.
This is where professional help from a personal injury truck lawyer is important. There are an enormous amount of details and legal complications involved in bringing a lawsuit against a large trucking company. Trucking companies have a team of lawyers on call that show up the minute there is an accident and do everything they can to shift blame away from their drivers to save the company money.
The sooner you call and start to work with Shuman Legal's highly experienced Chicago truck accident attorney the better the outcome will be for you and your loved ones. Having the best lawyer that understands the processes involved in truck accident crash cases and that has the immediate resources to help is critical. Not only that, as a victim of an accident, you need someone who can ensure that your rights are protected and your pain and suffering are compensated.
Have you or a loved one been hurt in a Truck Accident?


We have +70yrs Combined Experience. Let us Help!
One: Trucking Companies and Trucks are Much Larger Than Your Vehicle
Size differences between a commercial truck and a passenger vehicle. First, let's talk about the vehicles themselves – the commercial truck and the passenger vehicle. The size and weight of a commercial truck going head-to-head with a passenger vehicle is not a fair fight. Semi-trucks or 18-wheelers can weigh up to 80,000 lbs. when fully loaded, which is the highest legal weight allowed on the road. The average passenger vehicle weighs around 4,000 lbs.
A collision with a commercial truck is very different from a day-to-day vehicle accident. With the monumental differences in weight between a commercial truck and a car, it is easy to see that serious property damages, life-changing injuries, and even death are very real possibilities. As such, these types of accidents are always treated differently in the legal sense than a car-on-car accident.
There are strict laws dictating what is legally allowable for commercial trucks to be on the road. Weight isn't the only issue. Other issues are very important such as the type of load carried (such as if the load has hazardous materials), if the truck is in good mechanical working order, the number of passengers allowed to ride along, and if the correct permits have been gathered prior to even leaving the loading station.
Size differences between a commercial trucking company and a private vehicle owner. Next, let's talk about the difference between the size of a commercial trucking company and a vehicle privately owned by an average citizen. A fight between a large trucking company and a private driver is not a fair fight either. When it comes to having financial backing and extensive resources, a company or several companies vs. a private citizen do not have the same access to both money and resources to effectively argue the case.
In addition, other entities could be held liable besides just the truck company. Some examples of possible liable parties include the truck driver, truck owner/operator, or even the truck manufacturer could be named as defendants in the case.
Two: Trucking Companies Won't Give You What You Deserve
Trucking companies have deep pockets and are financially able to compensate you for your injuries or losses. They also have lawyers available to argue on their behalf if they need to. Avoiding court is a goal of many of these companies and sometimes they offer a lower settlement than what is fair. This is where a personal injury truck accident attorney can make the difference in the dollar amount of your compensation.
Three: Have Peace of Mind in Not Claiming Fault
As the case proceeds, much of the fight ends up being between the different insurance companies. The insurance companies are out to prove that their client is not at fault, especially if there is a large sum of money involved.
Insurance adjusters may reach out to discuss the accident with you. Dealing with insurance adjusters is difficult in any situation. It is difficult to know what to say when they question you. Unfortunately, they tend to know tricks on how to get someone to claim fault.
Having a lawyer on your side removes this stress and worry. All you need to do is refer the calls and questions directly to your lawyer and his/her office. You don't have to worry about saying the wrong thing… you can let your lawyer deal with the insurance companies completely.
Four: A Truck Accident Attorney Can Get You Compensation Beyond Medical Bills
Some injuries don't show their true magnitude until well after the accident, such as internal injuries or back and neck injuries. This is why it is very important to be seen by a medical professional shortly after the accident. The documentation of your injuries is extremely important, even if they don't seem to be serious now.
Your losses in connection to the accident are much bigger than just medical expenses, even if the medical bills add up to many thousands of dollars. Dealing with financial losses and hardships goes well beyond just medical expenses. In a serious truck accident, you may not be able to work for a period of time, yet you will still have bills to pay. Loss of income is a very serious hardship.
How long will you have to be out of work to recover? Will you ever be able to return in the same capacity? If you are able to return to work, how much time off from your job will you need to have to pursue legal action? These are all important financial issues to consider.
If you file a truck accident lawsuit, you might also be able to recover damages for the income you lost when you were unable to work after the accident. If you still cannot work by the time your case settles or goes to trial, you might be able to get compensation for future lost income, as well. If the accident left you permanently disabled and unable to do your previous job, this money will enable you to train for a new career, or even support your family if you aren't able to work.
Five: There May Be More Parties at Fault Than Just the Trucking Company
Commercial trucking rigs and 18-wheelers must operate by very stringent policies and specific laws due to the fact that they are large and can cause significant harm if involved in a wreck or accident. The responsibility of making sure the semi is within weight regulations, that the truck driver has the correct licensing and is legal to drive, and that it passes all safety checks falls on more than just the driver or trucking company.
An important detail to consider is that the trucking company may not be the only party liable. Other parties can be fully or partially at fault as well, such as:
The driver of the semi or tractor-trailer
The truck driver's employer if the driver is not an independent contractor
The truck owner
A service company that has done repairs on the truck, if the service was not performed correctly
The truck manufacturer or manufacturer of parts that had been installed
Determining who is at fault can be a difficult and complex process. There are many things to consider such as if the driver is qualified and has the correct licensing and if the truck was in good mechanical condition.
---
Get Our Team, Working In Your Favor