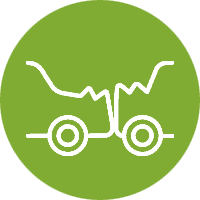 Aurora Car Accident Lawyer
How Does 'Fault' Work in a Car Accident Case in Illinois?
Determining fault in a multi-vehicle accident can be a complex legal issue that requires an experienced Aurora car accident lawyer to fight for your rights. In Illinois, the fault is determined based on a modified comparative negligence regime. That means a car accident victim's monetary recovery is limited or barred completely if their fault is found to be more than 50%. 
Hurt in a Car Accident? You Need to Watch This…
Discover how our car accident lawyers can help you navigate through the legal issues that come with an Illinois car accident.
If you were in a car accident, and are found at fault less than 50% then you could be entitled to monetary compensation, but the amount you can receive is reduced by the % you were found at fault.

For example, if you're found to be 45% at fault for your accident, then the amount of money you receive is reduced by 45%.
If you're found to be 51% at fault (or more), then you can NOT recover damages for pain and suffering in the state of Illinois.
That's why it's critical that you have an experienced car accident lawyer to be sure you land on the right side of the fault and don't get bullied by an aggressive insurance company. If you're the victim of a car crash, whether you were a driver, passenger or pedestrian then you need and deserve fair compensation. This is not something to do alone! 
The professional car accident lawyers at Shuman Legal®, have extensive experience handling car accidents in Illinois. Don't struggle! Let a qualified auto accident lawyer from our team of lawyers fight to ensure you receive full compensation for your damages.
How Our Car Accident Lawyers Help You:

Ask yourself – what happens if you miss important deadlines or documentation opportunities during this stressful period and can't get compensation because of it?
Have you lost time at work and aren't getting paid?  

Bills you can't pay and need help?

Don't have insurance and/or need expert medical care? 

Unable to perform household duties or meet your school requirements?

Not able to drive yourself to appointments? 

Struggling to take care of your children or other dependents physically and financially?
If you answered 'Yes' to any of these questions
Then you are suffering a loss that demands compensation!
Injuries, lost wages, or insurance and disability claims can significantly complicate a case and drown most people in bureaucracy and paperwork during an already difficult recovery time. We can cut through that red tape and take care of these details while you focus on your recovery.
When searching for a 'car accident attorney near me' it's good to know that a good attorney will help you do the following:
We complete the lengthy paperwork from doctors, insurance companies, and SSI/SSDI (disability).
We communicate with all of the insurance companies. 
We locate witnesses, hire expert witnesses and investigate the accident scene. 
We handle all the details – YOU RECOVER. 
Our team has over 70 years of combined experience critically evaluating all the facts involved in over 25,000 accidents – we know the tricks the insurance company will try and we aren't afraid to go to court! Call us so we can take over the investigation of your case and you can focus on your family and recovering from this accident.
"The staff at Shuman Legal® was so helpful and made my case so easy. They kept me informed about what was going on as well as answered questions I had. They are a great group of people who I'm glad I had the opportunity of having represent me. I am forever grateful for them. Thank you all so much!"
In addition to helping you address your medical needs and expenses, a top car accident lawyer from our team will assist you with all the other complicated issues that can come with a car accident, including:
Pain and Suffering

Lost Wages

Property Damage

Funeral Costs
We will help you find the appropriate medical specialist to treat your injuries and make arrangements to delay payment of medical costs until your case is resolved through settlement or trial. If the accident happened in any type of motor vehicle, we take the case. That includes:
Distracted Driving
Semi-Truck Accidents
Motorcycle Accidents
Rideshare Accidents
Speeding
Drunk Driving
Rollover Accidents
Pedestrian Accidents

ATV accidents 
What do I need to do to file a lawsuit after a car accident in Illinois?

When starting a lawsuit with a car accident lawyer in Illinois, a complaint must be filed with the local court, and a Summons must be prepared. The Complaint outlines your legal arguments as to why the other party, the defendant, should be required to pay for damages from the accident, and the summons notifies the defendant that the lawsuit has been filed and that they have the right to respond to the lawsuit. In the case of a small claims case, the summons can be delivered by certified mail with a return receipt, but they are often served personally.

The defendant can then respond to the claim, and depending on the circumstances, there may be mediated negotiations in hopes of reaching an agreed settlement before the lawsuit proceeds.

If negotiations fail to reach a satisfactory conclusion, the suit then proceeds into the discovery phase, where lawyers from both parties investigate the accident independently. Information found during the discovery phase is shared between both legal teams. This can be a very lengthy process depending on the scope of the case. When the discovery phase is complete, the trial begins. The trial itself is often resolved within a few days for most car accident claims.

How do negligence laws work in Illinois?

Illinois works on a modified comparative negligence system. This means that whoever is found to be responsible for an accident is also responsible for paying damages to the other parties involved based on the percentage of their fault for the accident.

For example, if you were considered 30% at fault for an accident and the other party was 70% at fault, you would be able to seek compensation for 70% of your damages from the accident. However, this is generally limited if you are 50% or less than at fault for an accident.

Shuman Legal has over 70 years of combined experience in auto accident law. We will help you maneuver any and all challenges!

What do I do if I was involved in an accident with an unattended car?

If you are involved in an accident where your vehicle collides with a parked vehicle or other unattended property, you must stop immediately at the scene or as close to it as possible and attempt to find and alert the owner of the damaged car.

You must give them your name, address, and vehicle registration number. If you're unable to locate them, leave a written note attached in a clearly visible place on the damaged property that includes the same information you would have shared if you had managed to find them.

You must also make a report to the police notifying them of your accident if it resulted in a total of more than $1,500 in damages, which is likely to be the case.

What kind of compensation can I expect

Car accident settlements can vary greatly depending on the severity of the injury, as well as the type of treatment needed. For people who have suffered serious injuries, the settlements are generally much larger, and the topic can be much more complicated than straightforward physical damages.

A few of the things that come into the equation when finding out how much you can expect from damages in an accident are Lost wages / Reduced earning potential, property damage, medical expenses, pain and suffering, and loss of quality of life such as through lost companionship or through other forms of suffering caused by the accident.

When discussing your injuries, treatment, and recovery with your Attorney, be sure to include any losses you can think of, even if you might think they are small or unimportant. For example, if you're unable to do recreational activities, household work, lifting objects, etc., these are taken into account when determining your damages. By discussing these, we will be better able to make sure you are compensated for as much of your losses as legally possible.

How long do I have to file a claim?

If you've been in a Car Accident in the State of Illinois and are unable to reach an agreement outside of court, there is a limited window of time where you can still file a claim for your injuries or property damage.

In the State of Illinois, the Statute of Limitations for filing a claim for injuries from a car accident is two (2) years, though this is reduced to one (1) year if the other party was a local public employee. The Statute of Limitations for filing a claim for property damage is typically much longer and can be for as long as five years.

In either situation, it is usually a good idea to consult with an experienced attorney as soon as possible so that they can help you to make the best choice for your case and to navigate the often-complicated process.

How long can I expect my case to take?

Though the total length of a case varies based on a variety of factors. The most important factor is the length of treatment needed before you fully recover. We can't begin the settlement process until you are released from your doctor. Once you've completed your treatment, we will immediately order all of your medical records and bills. In many straightforward cases, your case can then be resolved within 2-4 months after you complete your treatment. However, in more complex cases, your case could last for more than a year.

A few factors that influence how long a case takes include how long insurance takes to respond to you, the nature and extent of your injuries, and the degree of cooperation from the other side.

Most cases don't end up needing to go to trial, which also can significantly reduce the time taken for completion, as it can sometimes take many months to get a trial date set in court. Trials themselves can last anywhere from a few days to two or more weeks, depending on the complexity.

What are the insurance requirements for your car in Illinois?

According to Illinois law, motorists are required to carry bodily injury and property damage liability insurance to help pay for damages they might cause in an accident.

Though higher amounts are always recommended, the legal minimums for your insurance are $25,000 per person, $50,000 per accident for bodily injury, and $20,000 per accident for property damage. You are also required to have Uninsured Motorist Coverage worth at least $25,000 per person and $50,000 per accident. This is often included with higher levels of coverage.

What do I do after a car accident?

Though the response to an accident may vary depending on its severity, there are at least a few basic things that you should do after any car accident.

First, let's assume that you've already called 911 and received medical care for your injuries. If not, please get expert medical care immediately. There may be injuries that are not immediately apparent, and in your shock from the accident, it can be easy to overlook some profoundly serious injuries. It's also important so that your injuries can be documented should you need to file a case in the future.

If you're in a condition to do so, take pictures of the vehicles involved and the immediate surroundings of the scene – any skid marks, broken glass, and other nearby hazards that may have contributed to the accident.

Be sure to file an official police report as soon as possible afterward, within ten days of the accident. You will want to exchange your contact and insurance information with the other drivers involved and get their information as well. If you can, also try to get the names and contact information of any witnesses.

Report your accident to your insurance provider, but don't make any statements and stick strictly to the facts.

Speak to an attorney before making any official statements. Insurance companies don't want to pay out money so they'll do what they can to get you to make a statement that they can use against you later.
How you can help move your case forward:
We have learned over many years that people feel best when they can take some action towards securing what they need. Although we want you to focus on recovery, there are some areas where we know you can contribute, if you are well enough, that do make a difference.
The best way to ensure you have a strong case is to begin gathering all relevant paperwork related to the accident immediately. That's step one and something that you can help with. Here are a few things we will need to file a car accident claim:
Police reports.

Auto insurance claims.

Medical billing statements.

Any other important letters or documents directly related to your case.
These are the documents that will cover the facts about How, When, and Why the incident occurred. These details tend to become blurred, especially if you've been hurt. The odds are that if you've been injured, or your car was damaged in some way, there will be medical and auto repair bills to pay.
Those moments immediately following the crash are a critical time to document as many of the details as possible so that you can be compensated adequately.
Our car accident lawyers can help you understand what type of compensation you need and deserve in terms of the law. They can also answer any questions you might have about your case.
Since 1996, Shuman Legal® has advocated on behalf of over 25,000 injury victims and their families, helping them successfully navigate the complexities of the legal process.
Have you been injured in an accident? Let us review your case for free
As experienced Aurora, IL car accident lawyers at Shuman Legal®, we can assist you with evaluating the facts, assessing your options, and managing your legal challenges. As a result, you can get compensation for your loss so that you can focus on getting back on your feet. Get in touch with us today for a free consultation.
Get Our Team, Working In Your Favor