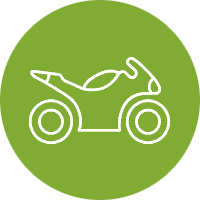 Decatur Motorcycle Accident Lawyer
Decatur Motorcycle Accident Lawyer Service
Motorcycle accidents aren't just an area of law that we practice in our firm. It's one of the driving passions that led us to get into Personal Injury Law. Our founder, Marc Shuman, an experienced Decatur motorcycle accident lawyer, knows exactly how it feels to lose someone in a motorcycle accident and it was that loss that pushed him into motorcycle accident law.
Now, 35 years later we have a wealth of knowledge and experience representing riders' rights and needs in Motorcycle Accident cases and know that…
Motorcycle Accidents are NOT like other accidents!
That is one of the reasons we created Motorcycle Safety Lawyers®, Shuman Legal ®'s dedicated division that focuses 100% on Motorcycle Injury Law. If you or someone you know has been in a motorcycle accident and is looking for a Decatur motorcycle accident attorney – we are the Best!
Unfortunately, when you're riding your bike you are FAR more vulnerable than other drivers and that's why the most common motorcycle accident injuries are more devastating. Far too often motorcycle accidents result in catastrophic injuries that permanently change lives and family dynamics. If you or a loved one has been hurt on a motorcycle, it's time that you reach out for help.
We don't get paid until we win your case.
Get your lost wages because you're unable to work.
Get your bills paid or delay payments until your case is won.
Get help getting around the house or taking care of yourself.
People are prejudiced against Bikers. We won't stand for it!
Get answers to your questions now. 
We won't waste your time or energy.
We won't let insurance companies push you around! 
We're active in the Biker Community – see all of our events.
We have

Decades of Experience

in Motorcycle Accident Law.
"Shuman Legal went the extra mile for me after my motorcycle accident. They made sure I received the best medical treatment possible and fought for my rights every step of the way. I would highly recommend them to anyone in need of a personal injury lawyer."
Your Decatur Motorcycle Accident Attorney will fight to bring you the Justice you deserve because we're passionate about getting you the support you need. Plus, we work on a contingent, which means we don't get paid until we win for you!