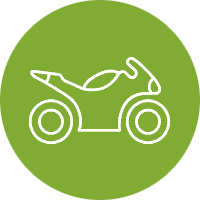 Chicago Motorcycle Accident Lawyer
Chicago Motorcycle Accident Lawyer Service
Motorcycle accidents aren't just an area of law that we practice in our firm. It's one of the driving passions that led us to get into Personal Injury Law. Our founder, Marc Shuman, knows exactly how it feels to lose someone in a motorcycle accident and it was that loss that pushed him into motorcycle accident law.
Now, 35 years later we have a wealth of knowledge and experience representing riders' rights and needs in Motorcycle Accident cases and know that…
Motorcycle Accidents are NOT like other accidents!
That is one of the reasons we created Motorcycle Safety Lawyers®, Shuman Legal's dedicated division that focuses 100% on Motorcycle Injury Law. If you or someone you know has been in a motorcycle accident and is looking for a Chicago motorcycle accident attorney – we are the Best!
Have you, or someone you love, been hurt in a Motorcycle Accident? 


Unfortunately, when you're riding your bike you are FAR more vulnerable than other drivers and that's why the most common motorcycle accident injuries are more devastating. Far too often motorcycle accidents result in catastrophic injuries that permanently change lives and family dynamics. If you or a loved one has been hurt on a motorcycle, it's time that you reach out for help.
We don't get paid until we win your case.
Get your lost wages because you're unable to work.
Get your bills paid or delay payments until your case is won.
Get help getting around the house or taking care of yourself.
People are prejudiced against Bikers. We won't stand for it!
Get answers to your questions now. 
We won't waste your time or energy.
We won't let insurance companies push you around! 
We're active in the Biker Community – see all of our events.
We have

Decades of Experience

in Motorcycle Accident Law.
"Marc and his team worked hard for me making the process completely stress free."
How long do you have to file your claim for a motorcycle accident in Chicago?
From the time of the accident, you have two years to file a lawsuit for a motorcycle accident in the State of Illinois. This is not an absolute timeline for reaching a conclusion but is a binding timeline for the decision to take your claim to court. While two years can seem like a long time, a lot must be handled in that time period, so it is not as generous as it might initially seem. By speaking with an attorney as soon as possible, you'll be in a better position to find evidence to support your case.
What should you do first after a motorcycle accident in Chicago?
When it comes to being involved in a motorcycle accident, it is pretty likely that there will be injuries involved. Your first priority is to make sure that you and everyone involved are safe and receive medical care if needed. The first things you should do after an accident are:
If safely possible, relocate to a safer location, such as the side of the road.

Call 911 for emergency medical attention if needed, and to report the accident to the authorities.

Note down the make and model of the vehicles involved in the accident

Take photographs of the scene, such as your damages, the vehicles involved, and your immediate surroundings, such as skid marks or other damage on the road.

Exchange insurance information with the other party, but do not discuss who is at fault

If possible, exchange contact information with any witnesses and the other party involved.

Seek medical care for your injuries. If they are not life-threatening, you should wait to be cleared to leave by the authorities, but seeking medical care as soon as possible after the accident is crucial for your recovery and to support your claim.

Call a Chicago motorcycle accident lawyer so that you can understand your rights and your case before speaking to an insurance company.
While you will have to report the accident to your insurance, it is a good idea to first speak with a Motorcycle Accident Attorney as soon as possible. They will be able to help you explore your options, deal with insurance without being taken advantage of, and investigate the accident.
What kinds of damages are typically covered in a motorcycle accident claim?
The time immediately after a motorcycle accident can be very stressful. You or a loved one have been hurt, you're not sure how long it'll take to recover, and… how are the bills going to be paid? Even if you make a claim against the other driver's insurance, will that be enough to cover your expenses?
Medical bills, as well as expected medical expenses related to your recovery

Lost wages: Time you were unable to work while recovering from your injuries

Lost earning potential: Impacts from long-term injuries leading to being unable to do certain kinds of work.

Rehabilitation

Pain and suffering: The emotional impact of your injuries, changes to your relationships, as a result, loss of quality of life such as being unable to perform activities you previously enjoyed

Damage to your bike
Depending on the specifics of your case, there may also be other kinds of damages involved. An experienced Motorcycle Accident Lawyer will be able to help you go over the details of your case and help fight to ensure that you receive the full compensation you deserve.
How does liability work in motorcycle accidents in Chicago?
Chicago, and the State of Illinois in general, follows a system for liability called Comparative Negligence. This basically means that the court will look at each party's contribution to the accident and rate it as a percentage of responsibility for the accident. 
As long as you are found to be less than 50% at fault for the accident, you can be compensated for the pain and suffering caused by the accident. However, your compensation would be reduced by your percentage of fault. For example, if you were 30% at fault and your damages came out to be $100,000, you could still receive up to $70,000.
As for how negligence is determined, there are four conditions that are taken into account:
There was a duty: The individual must have a responsibility to the plaintiff. In this case, to drive sensibly, to be unimpaired while driving, and to follow the rules of the road, guidance from signage, and speed limits.

There was a breach of duty: There must be evidence that the other party did not fulfill their duty of care, such as by driving while intoxicated, careless or aggressive driving, or a city failing to keep its roads safe.

The Injury was caused by the breach: The injuries suffered must have been caused by the breach of duty. In this case, it was the other party's negligence that caused the accident.

Damages were suffered: The plaintiff must prove they have suffered damages as a result of the accident. This includes a variety of factors, including your injuries caused by the accident as well as any other damages that may have been caused by the accident, such as loss of wages from time spent unable to work or damage to your motorcycle.
All of these things can be quite difficult to keep track of and prove, and insurance companies will want to keep the amount of money they have to pay out to a minimum. If you have been involved in an accident, in order to ensure you have the best chance of receiving justice and the compensation you deserve, you should reach out to a personal injury lawyer for a free consultation.
Are you required to wear a motorcycle helmet in Chicago?
Legally, no. Illinois is one of the few states in which helmets are not legally required while riding a motorcycle. However, just because you are not legally required to wear a helmet doesn't mean you should stop using one.
One in five motorcycle crashes results in head or neck injuries.

When riding at low speeds, a helmet can reduce the risk of head injuries in half.

Riders with helmets are three times as likely to survive head injuries caused by a crash.

In States with reduced helmet use, motorcycle accident fatalities increased by as much as 80%
The risks of failing to wear a helmet are simply not worth it. Still, an experienced motorcycle accident lawyer knows the law and will be able to help you pursue fair compensation even if you were not wearing a helmet.
Have you, or someone you love, been hurt in a Motorcycle Accident? 

Your Chicago Motorcycle Accident Attorney will fight to bring you the Justice you deserve because we're passionate about getting you the support you need. Plus, we work on a contingent, which means we don't get paid until we win for you!
Get Our Team, Working In Your Favor