What is a Valid COVID-19 Lawsuit?
Last updated Wednesday, November 1st, 2023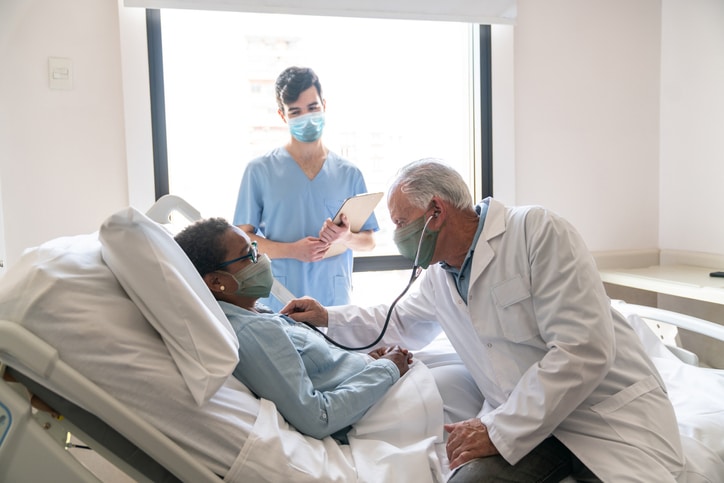 The world continues struggling with the aftereffects of the coronavirus. Did you contract COVID-19 through no fault of your own? Was a loved one exposed to this virus because of someone else's negligence? Are you wondering if you could have a valid COVID-19 lawsuit?
Sailing through some of these pandemic waters can be uncharted territory. While there are many examples of other types of personal injury and wrongful death cases, COVID-19 claims may be atypical. These lawsuits continue to evolve.
If you think you may have a COVID-19 lawsuit, contact Shuman Legal®. Our team members stay on top of legal trends emerging from the coronavirus. We'll take the time to carefully review your case. If you may be entitled to compensation, we can get right to work.
Do You Have a Valid COVID-19 Lawsuit?
COVID-19 has opened Pandora's box of legal claims. There are all kinds of pandemic-related lawsuits now in progress. Each case varies. Our attorneys need to hear specifics to know if your lawsuit is valid. We might need to do some research too.
Work with our law firm to see if you have a case worth pursuing. Below are a few types of COVID-19 lawsuits:
Business Interruption Insurance Claim Denials. Business income insurance can protect owners forced to close temporarily. Many of these policies have pandemic exclusions, leaving business owners in the lurch. Lawsuits can be filed to guard coverage.
False Advertising. A global virus can bring out the worst in people. Some items have been falsely labeled as COVID-19 cures. Certain sanitizing solutions didn't kill germs as labels boasted they would. Consumers are right to be upset and file claims.
Personal Injury. Compensation may be up for grabs if you were exposed to the coronavirus due to negligence. Examples include contracting COVID-19 in a hospital or nursing home.
Unfair Price Hikes. Sellers aren't allowed to jack up prices for in-demand products during times of emergency. Lawsuits have cropped up for this price gouging. And rightfully so.
Unfulfilled Contracts. Some contracts fell apart due to the pandemic. Venues were closed. Vendors couldn't get inventory. Events were canceled. When money isn't refunded or an agreement isn't reached, you may seek legal action.
Workers' Compensation. If you contracted COVID-19 on the job, you may be eligible to file a workers' comp claim. Rules keep changing. One of our knowledgeable attorneys can best help you handle this type of case.
Wrongful Death. Is negligence to blame when a loved one dies as a result of contracting COVID-19? If so, you may be entitled to seek compensation.
Has a Loved One Been the Victim of a Wrongful Death?


File your wrongful death claim with us. The minute you sign with Shuman Legal® – we start working.
Who May be Eligible to File a Claim?
As these claims are vastly different, the type of case can dictate eligibility.
Business Cases. Companies have been directly impacted by COVID-19 legal issues. Business owners may be eligible to file a claim.
Personal Injury Cases. If you've contracted COVID-19 through another's negligence, you can file a claim.
Product Cases. Consumers affected by pandemic product problems may be able to file claims.
Workers' Compensation Cases. An employee exposed to the coronavirus on the job may be eligible to file a workers' comp claim.
Wrongful Death Cases. A personal representative can file this type of claim in Illinois. The representative is usually the deceased's spouse or adult child.
Can I Sue my Employer Over COVID-19?
Yes, if your employer breached their duty of care to keep you out of harm's way during the pandemic. Were you a first responder or frontline worker? If so, you may feel the biggest impact.
Claiming your employer's negligence caused you to contract COVID-19 can be dicey. Use the following checklist. Keep your employer in mind when answering these questions:
How often were common work areas properly cleaned and sanitized? Daily is usually effective for businesses. Medical establishments typically require more frequent disinfecting.
Was enough personal protective equipment (PPE) provided? Disposable gloves and masks are examples.
Was guidance about staying virus-free given?
Were employees told to stay home if experiencing COVID-19 symptoms? Was this policy enforced?
Were employees' temperatures taken every day upon entering the workplace? Was this effort taken outside the main workplace so as not to contaminate the interior?
Were protective efforts implemented? An example would be adding see-through partitions that could have prevented exposure.
Were updates given when a positive COVID-19 case impacted the workplace?
What materials did the employer provide to combat the spread of contagions? Were hand sanitizing stations put into use?
Are There Lawsuits Over the COVID-19 Vaccine?
Yes. Opposing viewpoints on the vaccine continue to make it a hot topic. Cases involving mandatory vaccine employee requirements keep appearing. Employers want a safe work environment. Workers want the freedom to choose (not be told) how to avoid infection.
There are also workers who feel getting vaccinated violates their religious beliefs and/or goes against their conscience. The wording in the Illinois Health Care Right of Conscience Act has been the basis for some related lawsuits.
As of June 1, 2022, things may look different. An amendment to this act takes effect then. Using this act to file vaccine lawsuits may not be possible.
As all legal ventures involving COVID-19 and its vaccines continue developing, you'll need an attorney who stays in the know. Our team is never out of the loop. When trends like this impact you, we head them off at the pass. Let us answer your questions; you could have a valid COVID-19 lawsuit. And we could get you rightfully compensated!
---
Get Our Team, Working In Your Favor