What to do in Hit and Run – "Leaving the scene of an Accident"
Last updated Wednesday, November 29th, 2023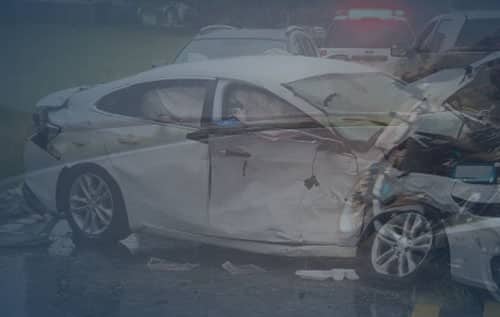 A Car Hit Me and Drove Off
If you have been in a car accident and the person who hit your vehicle left the scene – they are still liable! There is still help available to you. Hit and run crashes occur with an alarming frequency here in the U.S. according to the AAA Motor Club. It is not uncommon to have someone come into our office and say, "someone hit my car" or "I got hit by a car, and they drove off – What can I do?"
Now not every hit & run is tragic, but many are. Illinois requires an uninsured motorist to carry personal injury coverage specifically, you have a right to compensation, and it will likely require legal intervention on your behalf to get that.
When your car is damaged and you are injured, and the perpetrator runs off, it creates all kinds of challenges. In the most common case, hit and run against a vehicle, it often leads to the victim having to sort out car repairs, rental cars, and often medical care. If you are fortunate enough to have details of the vehicle that did the hit and run, then you have the dread of dealing with their insurance company. This is where having an attorney experienced in hit-and-run accidents will prove valuable.
Injured in a Hit and Run Car Accident? Get FREE Legal Advice Now!

According to Illinois law 625 ILCS 5/11-401, failing to stop after an accident that causes personal injury or death is a Class 4 Felony. Offenders can face a prison sentence of up to 15 years and fines of up to $20,000.
The law is clear, this type of destructive behavior or action is not acceptable, and we support our clients fully to recover from damages and get the compensation required for that.
"I got hit by a car and they drove off " – How Shuman Legal® can help:
Pursuing a driver that caused damage and ran often involves addressing an uninsured driver, which means a high probability that we will need to file a lawsuit.
Insurance companies, both the other drivers and yours, may be unwilling to pay out on claims where there is coverage, and your damages made need to be covered by a means other than insurance if the driver did not have coverage in place at the time of the accident.
Chances are everyone has heard of the challenges when in battle with insurance providers to get full compensation. You can remove a mountain of stress and confusion, plus increase your shot at fair compensation simply by working with an experienced Chicago car accident lawyer when making your claim. Unlike insurance companies, your best interests are your attorney's primary focus. The team of experienced attorneys at Shuman Legal® will ensure that you get the maximum compensation possible.
Why Should You work with Shuman Legal®?
Watch this video to see why our Founder, Marc J. Shuman, fights for clients (just like you) every single day!
Someone Hit My Car and Drove OFF! What to Do After A Hit And Run:
So if this sounds like you, there are some actions you can take that are important, but don't try to take matters into your own hands, don't chase down the driver yourself, and do not leave the scene of the accident before the police request you do so – do these things listed here:
First – Call 911 if there is an urgency like an injury. If there is no urgency, still call the police and report the incident, wait for them to attend the site as you want them to investigate this, and make sure a file is created on your behalf. Get the file number for your report from them as well. If the police refuse to make a file, make sure to take down the details of the police officer you speak with, including their full name, badge number, and telephone number – so that your lawyer and insurer can follow up with them if necessary.
Next, If you can, write down the license plate number of the vehicle responsible or get it from any bystanders that might have captured it for you, share this information with the police if you have it.
If you aren't able to get the license plate, make notes on everything you can about the assailant, write down the make, the model, the color/s, as well as anything you or bystanders witnessed about the driver if they were seen. Write down the date, the time, and the weather conditions as well as any damages. Share all of this with the police when they arrive to help them pursue this further. You will need this for your insurance provider also, so keep all of your original notes yourself and share a copy of them.
Remember to take contact information, including their full name, phone numbers, and addresses, for any bystanders or witnesses that can support your claim by sharing information they have.
Use your phone to take pictures of your car and the surrounding area, ask any bystanders if they were able to take pictures of the incident or the vehicle that caused it and get those for safekeeping.
"Someone hit my car!" – File an insurance claim ASAP after a hit and run:
Insurance providers have deadlines for filing claims after an incident occurs – there is a timeline, and they must submit a claim within a specific time frame. If you miss their filing deadline, you could miss out on your rightful compensation.
IF the police can locate the driver and the driver has adequate coverage in their insurance policy, you can file a claim through their insurance provider. However, the most common reason given for a driver that flees the scene is that they are not appropriately insured. Our attorneys can pursue the driver directly to recover the costs of the accident that they caused on your behalf.
If the police do not locate the driver, then you may be able to make a claim with your own insurance company, depending on the type of coverage that you have. You may be covered if you have been in a hit and run by optional Collision Coverage. If you opted out or don't have this you may find yourself having to pay for the damage yourself.
Have You Been Injure in a Car Accident?


Talk to Our Experienced Car Accident Lawyer to Seek Compensation.
If you have been involved in a hit and run, we are here for you.
Since 1996, Shuman Legal® has been helping victims and their families navigate the complex legal process. As experienced attorneys, we can help you evaluate the facts, assess your options, navigate the legal challenges, and advocate on your behalf.
Shuman Legal® has over 77 combined years of experience advocating for victims and their families. We advocate on your behalf so that you can focus on the task of recovery.
---
Get Our Team, Working In Your Favor