Workplace safety |Three Ways To build Safety in the Workplace
Last updated Wednesday, March 10th, 2021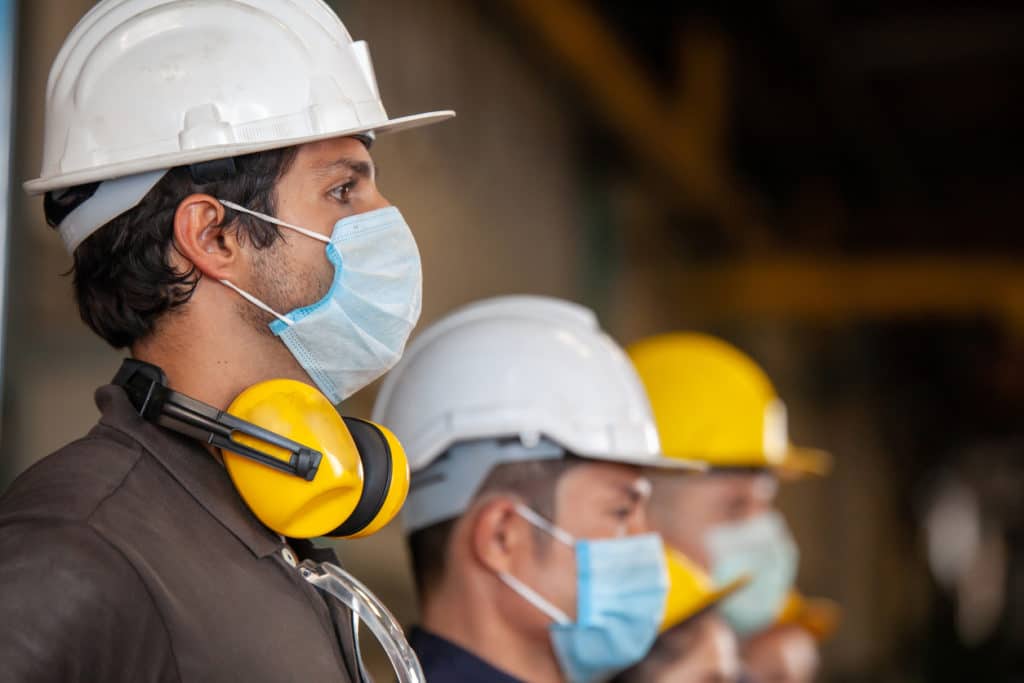 Workplace safety is a key metric for most businesses. Workplace injuries cost employers and employees alike, but most are entirely preventable. According to OSHA safety, workplace injuries cost employers more than $1 billion in direct worker's compensation costs alone. When higher insurance rates and worker's comp attorneys and other indirect costs are factored in, the cost of on-the-job injuries can add up quickly.
Workplace safety issues cause losses in the form of lost wages, medical bills, and discomfort related to workplace injuries and workers experience the disruption of their work and family lives. The vast majority of workplace injuries are preventable with the right equipment, OSHA safety training, and a commitment by managers and staff in creating a culture of safety in the workplace.
U.S. Workplace Injury Statistics
Some of the leading causes of accidents at work, according to the Liberty Mutual Research Institute for Safety, include:
Overexertion – 25.3%
Falls on the Same Level (i.e. Trips, Slips, and Falls) – 15.4%
Struck by Equipment or an Object – 8.9%
Falls to a Lower Level – 8.6%
Other Body Reactions or Exertions – 7.2%
In 2014, the number of on-the-job accidents did decline, but the overall total number of reported injuries was still considered high. When employees are injured in the job, employers have to file a worker's compensation claim.
Worker's compensation is a form of workplace safety insurance employers have to help cover the expenses incurred from workplace injuries. Worker's compensation claims amounted to over $15 billion in 2014.
For more information and more workplace injury statistics in the United States, please continue reading the following infographic.
Consider these tips for improving workplace safety:
1. Follow safety regulations to the letter – Eliminating shortcuts and encouraging employees to follow all safety regulations will reduce workplace injuries. While it's easy to rationalize cutting corners here and there, it's a bad habit, as it will lead to increasingly unsafe behavior. Draw the line and stick to it.
2. Be proactive in finding safety risks – Employers should regularly inspect their facilities to ensure no safety risks have gone unnoticed. A regular review can help mitigate existing problems and nip developing problems in the bud. Also, foster an environment in the workplace where employees can report problems that they may notice.
3. Train regularly – It's not enough to conduct safety training once and expect your employees to remember it forever. Refresher courses remind employees of safety rules and how to use their personal protective gear.
About 3 million people suffered non-fatal workplace injuries in 2014 and around 4,500 died from on-the-job injuries. Improving safety practices will reduce these numbers, saving lives, reducing costs, and increasing the quality of life for workers everywhere.
How A Lawyer Can Help You Get Compensation For Work Injuries
Dealing with a worker's compensation insurance company for work injuries can often be challenging for injured workers. What you have to remember is that the insurance company isn't going to volunteer to give you money. The more money that they give you, the more money that comes out of their pocket.
By law, they are required to provide certain bare minimums and for most worker's compensation insurance companies, that's exactly what they'll offer you. The minimum. They may also try to dissuade you from seeking ongoing therapy and try to downplay the severity of your injuries. Understand, that they aren't here to help you. They're here to look after their own interests.
Make Sure That You Report Any Workplace Injury You Suffer On The Job
If you suffer any type of injury when you're on the job, you need to report it. Failing to report an injury can result in a worker's compensation claim being denied should you need to file one. Just because an injury seems minor today doesn't mean that it won't end up costing you problems in the future.
Therefore, it's better to be safe than sorry. So, if you suffer an injury at work, even an apparently minor one, report it.
You Deserve Fair Compensation For Work Injuries
If you suffer work injuries you need medical care to help you to recover from those injuries. You're also entitled to compensation for lost wages. While you won't receive the full amount of money that you would earn if you hadn't been injured and had continued to work, the percentage that you're awarded can help you to pay your bills while you recover.
Furthermore, if you're having issues getting fair compensation from your worker's compensation insurance, then a lawyer may be able to help.
Partial Or Total Disability Due To A Workplace safety issue or Injury
If you become temporarily totally disabled and unable to work as a result of work injuries, you should be compensated. If you end up with a permanent partial disability, the worker's comp insurance company should offer you a settlement that will help to offset any future earning losses that you incur.
On the other hand, if you end up with a permanent total disability, you'll likely receive a settlement offer. When insurance companies offer settlements they normally come with the caveat that you will give up any right to future compensation from them.
So, if you're going to accept a settlement offer, make sure that you speak with a worker's compensation lawyer before you sign anything.
You Need Someone To Look Out For Your Interests when it comes to workplace safety!
The most important thing to keep in mind when dealing with a worker's compensation insurance company is that they aren't looking out for you. They might be very pleasant, and they might seem like they are being generous, but that's exactly what they want you to think.
They are looking out for their own bottom line. That means that you need someone who will look out for you. That someone should be an experienced worker's compensation lawyer.
Therefore, if you suffer any type of serious injury on the job, make sure that you do the right thing for yourself and hire an experienced worker's compensation lawyer to ensure that your rights are protected.
Shuman Legal focuses on personal injury law and is experienced in dealing with insurance companies and their attorneys, recovering more than $50 million for clients over the past 20 years. To learn more, contact us at (800) 722-9744.
---
Get Our Team, Working In Your Favor