Chicago Workers' Compensation Attorney | Zachary Jordan
Your Workers' Compensation Attorney – Shuman's Bright Star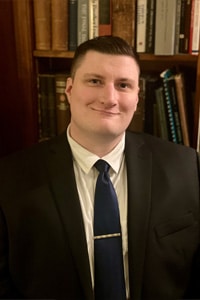 Shuman Legal's Workers' Compensation Attorney here in Chicago, Zachary knows what it's like to fight for what you need and deserve. An excellent example of this is when he won a verdict for his client in a very heavily disputed case when he secured a verdict of $491,000.  
Zachary is a bright star with a passion for the details that you want working on your case! Workers' Compensation law is one of the more complicated types of personal injury law. That makes it the perfect specialty choice for Zachary as he IS the devil in the details, which means he will leave nothing out when he's working on your case. 
Illinois Born and Raised
Having someone who knows the nuances of how Illinois works is another perk you'll get when working with Zachary. Raised in Belvidere, Illinois, a town known for its agricultural and industrial industries, he knows what it means to put in a hard honest days' work. Early in life, his parents influenced him deeply to always put in 100% effort when doing something and that showed as early as high school as he swam on the varsity swim team all 4 years of school.
That dedication continued to shine through when he graduated from Northern Illinois University (NIU) in just three and a half short years double majoring in Political Science and Philosophy. From there, Zachary went on to earn his J.D. at Chicago Kent College of Law successfully in 2016.
Raised to Stand Up for The Little Guy 
As the oldest of four, Zachary has always been the big brother supporting, teaching, coaching and standing up for his two younger brothers and sister. When asked 'Who has been the biggest influence in your life?' This is how Zachary answered:
"My siblings. Being the oldest I have had the pleasure of teaching the little ones various things (how to drive, have friends, handle life, ride a bike etc.). Being their big brother had a huge influence on the man I am today. "
His family have been his greatest support system that allowed him to see how perseverance and commitment can lead to great results both in life and in the courtroom. 
'The Boring Guy' You Want on Your Side
Quiet but fiercely loyal, dedicated and always positive is how he's most often described by friend and colleagues. Self-labeled as a 'boring guy' he's a humble highly talented workplace injury attorney that is passionate about the nuances of Workers' Compensation law.  Simply put – Zachary knows what it means to focus on the details and do things the right way the first time. Client engagement is a top priority for him, and he is committed to maintaining the highest level of communication.
Having learned the value of honesty, hard work, and determination, he strives to practice law adhering to these principles. Zachary is dedicated to providing quality client-centered representation and he's definitely the guy you want on your side! 
Have You Suffered a Work Injury?


An experienced Chicago workers' compensation lawyer knows what needs to be done. The minute you sign with Shuman Legal® – we start working.