How to Handle an Accident with an Uninsured or Underinsured Driver in Illinois
Last updated Monday, August 28th, 2023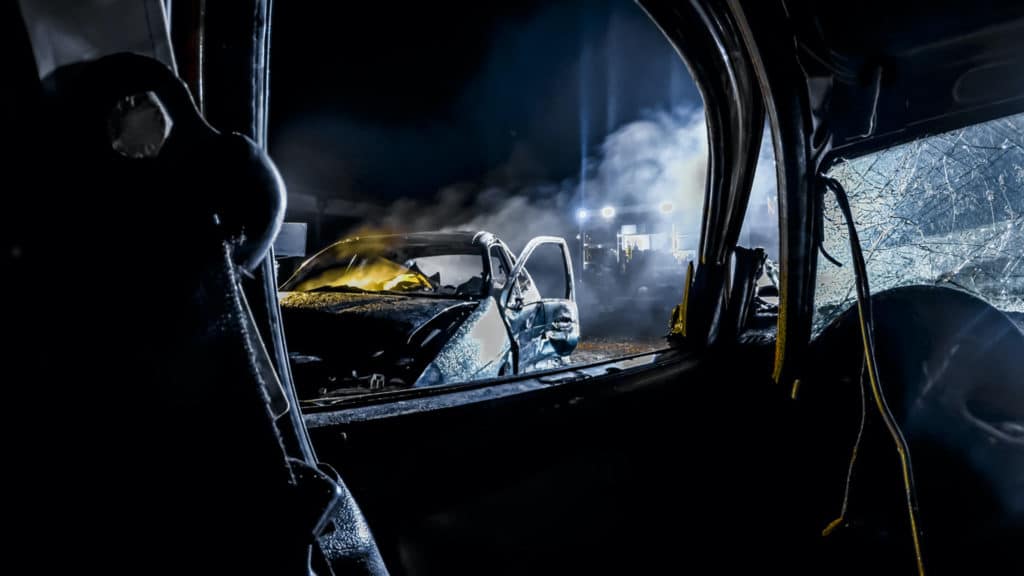 Uninsured or Underinsured Drivers
As an experienced Chicago uninsured motorist lawyer,  at Shuman Legal®, we've seen the worst-case scenario – you're in a car accident with another vehicle that is NOT your fault. Your vehicle appears to be a total loss and you and/or your passengers have injuries, with some seeming to be serious injuries. You know that you have protected yourself by carrying a good vehicle insurance policy.
THEN, you find out that the driver of the vehicle that is at fault either doesn't have any car insurance or has the minimum policy limits required by Illinois law.
What does this mean for you as a victim of an accident that is not your fault?
Illinois is what is called an "At Fault" insurance state
An "At Fault" state requires that the at-fault driver, or driver that caused the accident, and their insurance company, pay the damages that occur from the accident.
The party that is not considered at fault does not have to pay out any costs that incur from the accident.
A "No Fault" state requires that each party, regardless of who was at fault for the accident, file a claim with their own insurance company.
Illinois law requires that all drivers carry, at minimum, liability insurance, which is also known as "State Minimum" coverage. Liability insurance covers damaged property, as well as physical injuries, to different vehicles or drivers/passengers resulting from an accident where the policyholder is at fault and carries minimal liability insurance.
In terms of the loss or injuries sustained by a person in the vehicle of the "at-fault" driver, there is no coverage for the minimally insured person's bodily injury or vehicle. If they wreck their own vehicle or have serious injuries, they simply have to deal with the loss without any help from their insurance company. That means no replacement coverage for a vehicle and no coverage for any injuries sustained from the crash. They are responsible for the damages from the accident in which they caused.
What happens when the At Fault driver doesn't have insurance?
Penalties for a driver not having the minimum insurance required in Illinois are quite steep if the driver is caught. When an accident occurs that is the fault of an uninsured driver, the driver faces a hefty fine and the possibility of having their license plates/vehicle registration suspended for the vehicle involved. In addition to the fines imposed by the state, the liability of the accident needs to be addressed as well.
Minimum liability breakdowns for Illinois
The minimum liability amount covers up to $25,000 in bodily injury cost per person, with a total of up to $50,000 in bodily injury coverage per accident.
Liability insurance covers up to $20,000 in damage to property, such as a vehicle, per accident.
For uninsured motorists that are not at fault in the accident, liability insurance covers up to $25,000 per person in bodily injury, with a cap at $50,000 in expenses for bodily injuries per accident.
If you're not at fault in Illinois
When it comes to an auto accident, especially a severe accident with a totaled vehicle and/or serious injuries, would $25,000 per person (capped at a total of $50,000) be enough to take care of both the replacement of a totaled vehicle AND cover medical bills for injuries sustained? What about long-term effects, such as loss of mobility that may require additional medical coverage down the road and medical equipment?
After some research, you realize that the at-fault driver and his/her insurance company will not be able to take care of your expenses from the accident. And then you think to yourself that it will be okay because YOUR car insurance will kick in to protect you, pay your medical bills and fix your car. Right? Well, if your car insurance policy doesn't include Underinsured and Uninsured motorists, the answer is NO.
As the victim of an underinsured or uninsured driving accident, you may face life-changing injuries or expenses. And how do you move forward? You need good and accurate information. We offer a large library of information for your own research that is easily downloaded in minutes from our website.
The most important asset to have, though, is this – Someone fighting for you. You need to discuss your case with an experienced personal injury lawyer with years of knowledge and experience dealing with exactly these types of issues. Our attorneys can give you a great deal of information, and we offer a free consultation to give you an idea of the process involved.
Have You Been in an Accident With an Uninsured or Underinsured Motorist?
Talk with a compassionate attorney that can help you navigate the legal process while you heal.
Frequently Asked Questions about Uninsured and Underinsured Motor Vehicle Accidents
Are Uninsured Motorist Insurance and Underinsurance Motorist Insurance the Same Thing?
Although they are similar, they are not the same types of insurance. Both types of insurance protect you when someone causes an accident and doesn't have insurance, or doesn't carry enough insurance, to pay for the damages and medical costs.
The good thing is that Underinsured and Uninsured Motorist Insurance coverage are paired together and are not charged as two separate add-ons. They are packaged as an additional add-on package to your insurance coverage.
What Is Uninsured Motorist Insurance?
Uninsured Motorist Insurance covers you when involved in an accident with another vehicle that doesn't any insurance coverage. This, of course, is illegal in the state of Illinois, but it still occurs. Uninsured Motorist Insurance would also cover you in the event that you are a victim of a hit and run accident where you may not necessarily know who the at-fault party is.
What is Underinsured Motorist Insurance?
Underinsured Motorist Insurance is insurance designed to protect you when the driver that caused a collision does not carry enough insurance. Suppose they carry the minimal amount of insurance, which is $25,000. In that case, that amount is often not enough to cover your vehicle damages and the cost of healthcare resulting from injuries from the accident. As a victim, if the other motorist is underinsured, the maximum their insurance company will pay to you would be $25,000. Underinsured Motorist Insurance protects you and adds additional coverage to cover your expenses.
What Amount Of Uninsured Motorist Insurance Is Recommended To Be Safe?
The minimum amount required for Uninsured Motorist Insurance in the state of Illinois covers up to $25,000 per person. As you can imagine, that amount is dangerously low considering the cost of replacement vehicles and/or health care. As a professional law firm, we recommend a minimum coverage of $100,000 per person.
What Does Uninsured and Underinsured Motorist Insurance Cost?
The cost of the additional insurance is very minimal, but the peace of mind in knowing that you have covered yourself against a possible issue is worth much more. Knowing that you are fully covered in the event of an accident with an uninsured or underinsured driver is one less thing to worry about.
Since 1996, the Law Offices of Shuman Legal have been helping Car Accident victims, all injured victims and their families, navigate the complex legal process. We are experienced personal injury, worker's compensation, and Chicago wrongful death lawyers, and we can help you evaluate the facts, assess your options, navigate the legal challenges, and advocate on your behalf.
Shuman Legal has over 77 combined years of experience advocating for over 20,000 injury victims and their families and recovering over 50 million dollars on their behalf. We advocate on your behalf, so you can focus on the task of recovery.
---
Get Our Team, Working In Your Favor