Car accidents happen every day in the United States. In 2015 alone, auto crashes cost Americans roughly $152 billion in medical expenses, property damage, and wage and productivity losses. (1) Given the alarming frequency of collisions, most people have learned what to do when it happens to them: Call the police, get medical attention and exchange insurance information with the other driver. However, what happens if you're dealing with an uninsured driver?
Unfortunately, it's a more common scenario than you might think. Too often, people choose to save on monthly expenses by skimping on auto insurance, particularly when times are tough and the economy is sluggish.
According to an Insurance Research Council (IRC) report, approximately 12.6 percent of motorists were uninsured in 2012. (2) So, what happens if you're unlucky enough to get into an accident with one of the tens of millions of uninsured drivers on the road?
Here are a few steps that can help you navigate the crisis.
STEP 1: MAKE SURE YOU'RE COVERED
Prevention is the best defense. You can take steps to protect yourself from uninsured drivers long before you get into an accident. The trick is purchasing the right kind of insurance. Since normal insurance policies won't cover the costs of an accident when the fault lies with the other driver, it's necessary to buy additional coverage that will.
Dealing With Uninsured Drivers
Uninsured motorist coverage (UM) is designed specifically to cover you in the event that an uninsured driver is at fault. You can purchase UM coverage through your normal insurance provider, but it's typically separate from your ordinary policy.
Uninsured motorist insurance works very much like any other type of auto insurance, only you'll be making a claim against your own insurance company instead of the negligent party's provider, which doesn't exist in this case. If you choose not to purchase a UM plan and the law assigns blame to the other driver, your basic insurance plan won't cover the expenses, meaning you'll be left footing the bill.
Most UM policies place a limit on the amount of damages you can claim. Typically, you can't exceed the amount of your standard liability coverage. That means that if your current liability insurance covers up to $50,000 in damages, you will most likely only be able to purchase $50,000 in uninsured motorist insurance. These days, with so many drivers skating around mandatory insurance laws, uninsured driver coverage is more necessary than optional.
Dealing With Under-Insured Drivers
Under-insurance motorist coverage (UIM) is almost identical to uninsured motorist coverage. The only difference is that it protects you when the other driver has insurance but doesn't have sufficient coverage to pay for the damages.
Yet another supplementary policy, it will tack even more premiums onto your monthly bill, but will also add another layer of protection in case the other driver's insurance company refuses to pay the full amount. Of course, it will only kick in if your coverage exceeds the amount of the other driver's coverage limits.
Therefore, if you're facing total damages of $100,000, for example, and the other driver's insurance only pays out $50,000, you'll need more than $50,000 in under-insured driver coverage to make up the difference. Although not as critical as uninsured coverage, more and more people are starting to see the wisdom of UIM policies.
Collision Coverage
As an alternative to both UM and UIM plans, you could purchase collision insurance which covers the costs of repairing your vehicle when the other driver is at fault. Unfortunately, collision insurance does not cover medical expenses. Thus, while it can give you some peace of mind in a crunch, it's not as comprehensive as UM insurance.
8 Steps To Take If You Get In An Accident
Here are eight things you should do if you get into a collision with another driver, insured or uninsured:
1. Seek Medical Attention
The first order of business after getting into an accident is making sure everyone gets the appropriate medical attention. Handle all medical emergencies before dealing with the legal implications.
2. Call The Police
Even if no one is injured, the police will need to document the scene, obtain insurance and vehicle registration information for both parties and compile an official report which you will use to file your insurance claim.
3. Take Pictures Of Any Injuries And The Scene
Document each and every injury so you can prove damages. Even if you are not injured, use your phone to take pictures of the entire scene, including any damage to your vehicle. Make sure to snap the photos before you move your car. Without photographic evidence, the other party can easily claim it wasn't their fault.
4. Seek Help If Injured
If you are injured and not removed from the accident scene by an ambulance, you still need to seek medical attention from the Emergency Room or a physician within 24 hours of the accident. Failure to do this may result in damaging your claim, as you don't have a medical professional document your alleged injuries, so seek medical help immediately.
5. Exchange Information With The Uninsured Driver
If the police is not called to the scene, then you must exchange information with the other driver. Ask the other driver their insurance information, driver's license, contact information and then provide yours. If they refuse, you know you may be dealing with an uninsured driver and should immediately call the police.
6. Contact Your Insurance Company
Call your insurance company immediately to file a claim and provide the details of the accident and to receive any important information regarding your car repairs and more.
7. Call Your Personal Injury Attorney Instantly
Contact your lawyer to protect your claim. Your lawyer will communicate with the other party, their insurance company and will eventually determine if you should bring your case to court.
8. Do Not Talk To The Other Driver Or Their Insurance
That is for the insurance company and your attorney to do it for you.
STEP 2: CONTACT YOUR INSURANCE PROVIDER
It's one thing to have uninsured motorist coverage, but it's another to activate it. If you do get into an accident, the first thing you should do after handling the emergency situation is to contact your insurance company and your attorney. Sometimes the other party will tell you they have no insurance. Sometimes people simply refuse to hand over the necessary information. In either case, move quickly.
As soon as you've established that the other driver isn't covered, tell your insurance representative that you plan to file an uninsured motorist claim. The sooner, the better – It's critical not to delay. Some insurance policies place a time limit on uninsured claims. That could be as short as 30 days, so every moment counts. It's important to call your insurance and file a claim immediately after the accident.
Under-insured claims, on the other hand, can't be filed right away since you won't know the extent of the other driver's coverage. Nevertheless, the same principle applies: Contact your insurance provider and your attorney as soon as possible.
STEP 3: INITIATE LEGAL PROCEEDINGS
In some cases, your attorney will determine if it's necessary to initiate legal proceedings. Litigation is never the first option, but it is often a necessary option. There are many reasons you might need to go to court. Perhaps you failed to purchase UM or UIM coverage. Maybe your particular policy doesn't cover the costs. Sometimes insurance companies simply refuse to approve a claim.
Filing a lawsuit – Whatever the reason, you should always contact your accident lawyer as your first course of action. Your attorney will determine if it's right to file a lawsuit against the negligent driver. Unfortunately, most uninsured drivers have little to no money and few assets. That is, after all, why they're uninsured in the first place so you must do everything you can to recoup the damages.
Submitting to arbitration – There is another scenario. If you can't agree on a settlement figure with the insurance company, you might have to pursue legal action against your own provider. That can prove challenging since you most likely signed an arbitration agreement. An arbitration clause usually prevents you from suing your insurance company through the courts.
Instead, your case will be heard by an arbitrator or a panel of arbitrators. Arbitration can be a relatively speedy option, but it has its downsides. The biggest drawback is that there are fewer options for appeal. The arbitrator's decision is usually the final word. You will need an attorney to represent you even against your own insurance company in a case like this.
STEP 4: CHECK YOUR STATE LAWS
How you handle an accident with an uninsured driver will depend largely on where you live. While there are some basic principles that apply across the country, each state is different. That's why it's important to hire an attorney knowledgeable in injury law where you live.
A Closer Look
The problem of uninsured drivers affects the entire country, but some states bear a heavier burden than others. While California had the highest number of uninsured drivers (4.1 million), Oklahoma had the highest percentage (26 percent). Massachusetts, on the other hand, had the lowest percentage (4 percent). (3)
Illinois ended up in the middle of the pack, with a 13.3 percent uninsured rate. (4) Different states also have different rules about which insurance policies are mandatory and which are optional. While all states except New Hampshire require basic liability insurance, only some require additional policies.
As of 2013, 22 states including Illinois required uninsured coverage, while 14 states mandated under-insurance coverage. (5) Even more states require insurance companies to make UM policies available to customers.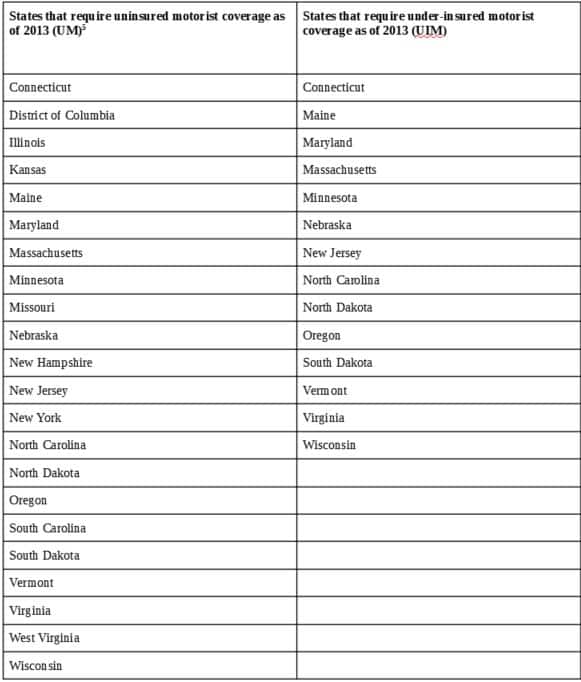 Your legal options are also governed by state laws. States that have no-fault car insurance laws, for example, limit your ability to sue. In such cases, no blame is assigned. Each driver will be responsible for his or her own injuries and damages. No-fault means you won't be able to sue the other driver, even if they were negligent.
While there are exceptions—such as when you suffer serious injury or incur exorbitant medical costs—the rule applies in most cases. It's important to remember to never settle or make arrangements with the other driver no matter how nice the person is. You will never recover more money than with a personal injury attorney.
The main goal is to compensate you for the greatest amount possible for your injuries, pain, missed work and medical expenses. Laws vary even between no-fault states. Fault-assigning states such as Illinois also have their own rules about when you can sue. Sorting out the complicated web of legal issues requires the advice of a qualified injury lawyer.
Indeed, seeking advice from a professional can often mean the difference between recovering damages or paying thousands of dollars in medical and auto repair fees out of your own pocket.
If You Or Someone You Know Has Been Involved In An Auto Accident,
Contact Us at (800) 722-9744 NOW To Speak To An Experienced Injury Lawyer For FREE.
Since 1996, the Law Offices of Marc J. Shuman & Associates have been helping Car Accident victims, all injured victims and their families, navigate the complex legal process. As experienced personal injury, worker's compensation and wrongful death attorneys, we can help you evaluate the facts, assess your options, navigate the legal challenges and advocate on your behalf.
Marc J. Shuman & Associates has over 77 combined years of experience advocating for over 20,000 injury victims and their families and recovering over 50 million dollars on their behalf. We advocate on your behalf, so you can focus on the task of recovery.
Sources:
(1) http://www.newsweek.com/us-traffic-deaths-injuries-and-related-costs-2015-363602
(2) http://www.iii.org/issue-update/compulsory-auto-uninsured-motorists
(3) https://www.cga.ct.gov/2013/rpt/2013-r-0258.htm
(4) http://www.iii.org/fact-statistic/uninsured-motorists