Product liability is the area of law that deals with the liability of the manufacturer, wholesaler, or retailer of a product for injuries resulting from that product. Research from the U.S. Consumer Product Safety Commission indicates that defective or unsafe products cause 29.4 million injuries and 21,400 deaths each year. Therefore, having a product liability lawyer on your side can be an enormous help in these situations.
Within the U.S., an average of $700 billion is spent annually on the injuries, deaths, and property damage as a result of consumer product incidents. Virtually all products are subject to product liability law, not just items on the store shelves — products subject to the law run the spectrum from food, drugs, appliances, automobiles, medical devices, medical implants, blood, tobacco, gases, real estate, writings, maps, and even commercial jets.
The Law Offices of Marc. J Shuman & Associates, LTD. aggressively represents clients who are injured because of a product defect, to help them receive full compensation for their injuries.
Types of Product Liability Cases
Often the most devastating accidents are the ones that you never see coming. The car that came out of nowhere or the lighter that explodes in your hand. What do you do if something like this happens to you?
Obviously, someone somewhere made a mistake and they should pay for your medical bills, but how do you proceed? Who can you hold accountable? If you buy something and it works improperly thereby causing you harm, you can file what is called a product liability lawsuit.
There are three types of product liability suits:
1. Manufacturing defect
Cases involving manufacturing defects target negligent actions and decisions that affect the process of physically producing a product. Often these claims center on the quality of materials used during manufacturing or shoddy workmanship. Examples include tainted medicine, vehicles that were assembled with inferior parts and children's toys made with lead paint.
2. Design defect
When a product's design is inherently flawed, dangerous, or useless, consumers can bring design defect lawsuits against the company. These claims have nothing to do with how the product was made. Even if manufactured perfectly, the items would still be unsafe or would not meet up to ordinary quality standards.
3. Failure-to-warn
This type of liability is also known as a marketing defects claim. These lawsuits are for products that do not carry warning labels or instructions that adequately describe the item's potential dangers or proper method of use. Generally these claims center on the argument that a product was unsafe in a way that would not be obvious to users, therefore consumers should have been provided some sort of warning about the dangers of using it.
The above descriptions illustrate the basic types of product liability, but it's important to note that in many states, these are not the technical claims that plaintiffs pursue. Instead, claimants' suits are usually based on torts or contract law.
Under the former, the argument usually rests on negligence. Under the latter, plaintiffs are generally pursuing a breach of warranty claims. Because the details of these lawsuits can be very technical, those who are considering bringing product liability cases may want to consult with a product liability attorney.
What Is A Product Liability Lawsuit?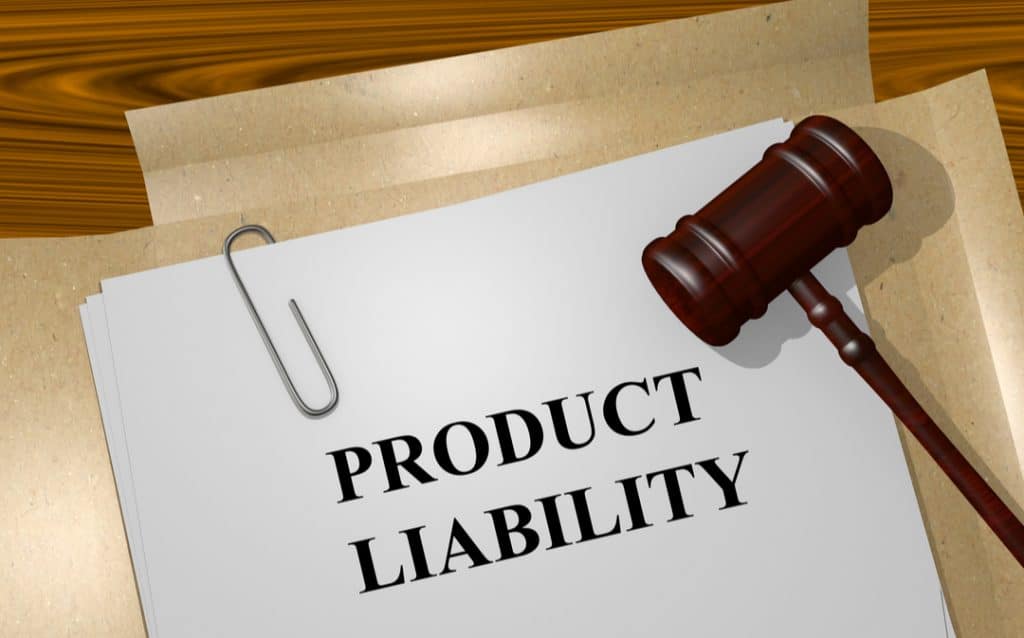 What is a product liability lawsuit? It's a lawsuit that someone files against a company when they were injured or suffered other damages as a result of a defective product. When a consumer purchases a product that is designed to do something and it fails to perform as it should and they are injured, they may be eligible for compensation for those injuries.
Companies have a responsibility to provide products to consumers that function as advertised and that are safe. If they sell products that are not safe, then they may be liable for any injuries that people suffer as a result of their product.
Who Could Be At Fault In A Product Liability Lawsuit?
If you are considering a product liability lawsuit, you need to determine who is liable. This is where an experienced lawyer can prove invaluable. If you suffered injuries due to a defective product, you want to file a lawsuit against anyone who could be liable.
Who might that include? The manufacturer of the product is an obvious starting point. If they knew of a defect in the product and did nothing to correct it, then they were negligent and liable for damages [1].
But, if the manufacturer isn't responsible for the product defect, you may have to look at other avenues to pursue. For example, the defect could be a result of a component of the product. In that case, the manufacturer of that component could be liable.
On the other hand, if there was a defect that occurred as a result of a third party not assembling the product correctly, then they could be held liable. You could even file a lawsuit against the retail establishment where you purchased the product in some cases.
Manufacturers Cannot Be Held Liable For Certain Types Of Injuries
There are certain products that are inherently dangerous and there's nothing a manufacturer can do to eliminate the danger without greatly impacting the effectiveness of a product. For example, a steak knife is sharp because it's for cutting steak.
It's also dangerous because it's sharp and meant for cutting steak. But, if you buy a steak knife and cut yourself, the manufacturer wouldn't be liable. This is because a reasonable person should understand that a steak knife is sharp.
What Types Of Product Defects Could Warrant A Lawsuit?
A product could be defective for a variety of reasons with three of them as the most prominent. First, it could be a design defect. Second, it could be a manufacturing defect. Third, it could be a packaging defect where a product was improperly packaged and labeled when sold.
How do you know which category your product liability lawsuit should fall under? The best way to know is to work with an experienced lawyer who has extensive knowledge regarding product liability lawsuits.
What Kind Of Outcome Should You Expect From Your Product Liability Lawsuit?
The outcome of your lawsuit will depend on the merits of your case, the liability of the parties involved, and the extent of your injuries. If you suffered severe injuries, then you should expect greater compensation than if you suffered minor injuries.
Your best option is to consult with a lawyer. He or she can go over your options and guide you through the process of your product liability lawsuit.
Important Things To Remember For Product Liability Cases
If you or a loved one has incurred a defective product-related injury, consult with a product liability attorney right away. Time is always of the essence in legal matters, as are minor points like:
Saving the receipt and all related paperwork, such as credit card bills, invoices, owners manuals, and warranty documentation.
Keeping an accurate record of all phone calls, emails, and in-person visits with the sellers.
Photographing documentation of all injuries incurred.
Since 1996, the Law Offices of Marc J. Shuman & Associates have been helping Product Liability Accident victims, all injured victims and their families, navigate the complex legal process. As experienced personal injury, worker's compensation, and wrongful death attorneys, we can help you evaluate the facts, assess your options, navigate the legal challenges, and advocate on your behalf.
Marc J. Shuman & Associates has over 77 combined years of experience advocating for over 20,000 injury victims and their families. We advocate on your behalf so that you can focus on the task of recovery. Call 800.722.9744 today to receive a FREE consultation from an experienced defective product attorney at the Law Offices of Marc J. Shuman & Associates, LTD.
[1] https://injury.findlaw.com/product-liability/what-is-product-liability.html