Chicago Lawyer Marc J. Shuman | Specializing in Personal Injury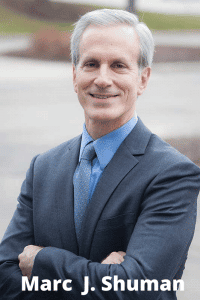 As a local Chicago Lawyer, the first thing that Marc thinks about when meeting a new client is how best to help them deal with their accident and what steps need to happen to make sure they are protected. Being an experienced Chicago car accident lawyer Marc knows the challenges ahead and can mitigate those challenges while you recover.
The steps Marc takes to protect you:
Step one is taking care to address their immediate stresses that come from their accident and injuries. Making sure that they are getting proper medical care and making sure the medical bills get paid or have the providers agree to wait until the case resolves to get paid. This helps avoid the stress of collection calls or legal action for unpaid bills.
Step two is to address the insurance companies and deal with the issue of lost wages, out of pocket expenses and/or property damages incurred.
Step three would be to access any special services required to support their client. There are many potential specialists Marc and his team of lawyers in chicago utilize for you to ensure the best outcome for your claim. They have used experts in all fields to support their cases including accident reconstruction; medical doctors; engineers; life care planners; economists (for future lost earnings); and safety experts.
Steps you can take to help Marc protect you:
A few things that Marc encourages his clients to do wherever possible to support their case are:
a) Get the proper medical care they need.
b) Get photographs of injuries; vehicles, the scene or area where they got hurt, etc.
c) Keep a journal of the injuries and how it impacted their lives.
Why choose Chicago Lawyer Marc J. Shuman:
One case that stands out is a case with a client whose name was Oscar. Oscar was electrocuted while attempting to move a cabinet full of batteries that had fallen over inside a delivery truck while he was at work. He was 40 years old at the time with a wife and three children.
Fortunately, he survived but Oscar will never be able to work again due to brain injuries and permanent physical restrictions.
The manufacturer of the battery cabinet denied all responsibility and the team at Shuman Legal had to file a lawsuit. After several years of litigation and hiring seven experts, they were ultimately able to settle right before trial for a significant sum of money. Moreover, they were able to structure Oscar's settlement so that he will get paid for the rest of his life and put his kids through college. This was in addition to the money he received at the time of settlement.
Education:
Undergraduate, BS in Accountancy at University of Illinois-Champaign/Urbana. 1983
JD, Chicago Kent College of Law-1986
Professional Associations:
Marc is a member of the following professional organizations:
Illinois Trial Lawyers Association
Chicago Bar Association
Illinois State Bar Association
Workers Compensation Lawyers Association
American Bar Association
National Academy of Motorcycle Injury Lawyers (NAMIL)
For the first five organizations mentioned above, Marc attends continuing legal education seminars.
On the last one, NAMIL, Marc is a founding member and attends regular meetings to discuss ways to
help the motorcycle community as well as charitable events.
Reach out to Marc and his team of lawyers in Chicago to discuss your concerns and how they can help you today – Contact Us
See what there's are saying – check out our reviews here.