Who Can File a Nursing Home Wrongful Death Lawsuit in Illinois?
Last updated Wednesday, November 1st, 2023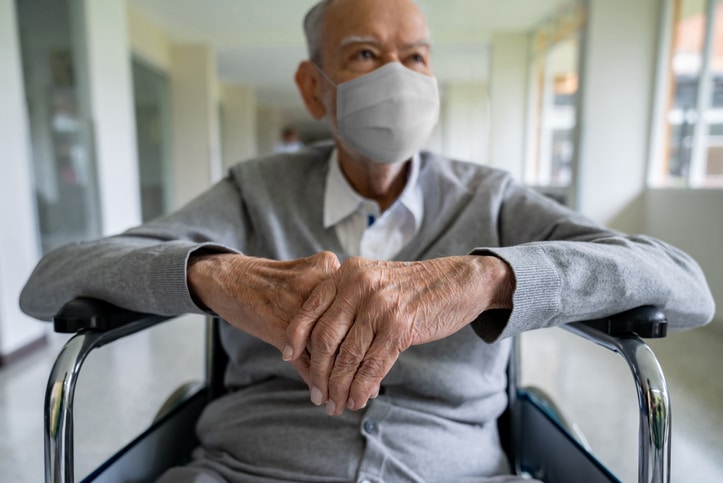 You expect that an older family member will be taken care of in a nursing home. Trust is betrayed when your loved one dies because of another's negligence. What are your rights? How can you get justice for Grandpa?
Do you have questions about filing a nursing home wrongful death lawsuit? Shuman Legal® has answers. We're the authority on Illinois nursing home neglect cases. We can help you too!
There's so much involved with this process. You need an experienced professional in your corner. The legal system has specific procedures. One mistake could cost your family dearly.
Our legal team specializes in nursing home abuse cases. We know what needs to be done and do it right the first time. More importantly, we understand what it takes to win. Getting you justly compensated is our ultimate goal.
Have You Lost a Loved One Because of Nursing Home Neglect?
Talk with a compassionate attorney that can help you navigate the legal process while you heal.
Filing a Nursing Home Wrongful Death Lawsuit in Illinois?
Losing an elderly loved one due to nursing home neglect or abuse can be traumatic. This experience can rattle the entire family. What are the next steps? Where should you even begin?
First thing's first. Determine who will file the claim. Illinois requires a personal representative to file these types of lawsuits. This person may be listed as the executor in the victim's will.
Generally, the person who accepts this duty is a close family member of the decedent (deceased). Surviving spouses and adult children are common representatives.
If there's no legal will, the court may appoint an administrator. The Illinois Probate Act favors the following family members in descending order for this role:
Surviving Spouse
Legatees (Persons Slated to Inherit from Decedent's Will)
Children
Grandchildren
Parents
Siblings
Closest Living Relation
Has a Loved One Been the Victim of a Wrongful Death?


File your wrongful death claim with us. The minute you sign with Shuman Legal® – we start working.
What if a Loved One Died Because of Nursing Home Negligence?
It's never easy when someone you loved dies without notice. But it can feel like a sucker punch when neglect is the cause. Preventable deaths continue happening in nursing homes. Liable parties must be held responsible.
Going up against a nursing home is no easy task. Huge corporations frequently own nursing homes. Extensive legal teams are on retainer. These high-powered lawyers play hardball.
Meeting with a qualified attorney is your best course of action. Lawyers at our firm are well versed in nursing home neglect lingo. We know the ins and outs of the Illinois Nursing Home Care Act, Illinois Survival Act, and Illinois Wrongful Death Act. Let us be your guide.
There are a few steps that get your case up and running.
Scouting Out the Situation. Initial investigating is key. Without all the details, the case has no chance of success. Attorneys need to go through photos, video footage, medical records, and related documentation. A proper paper trail must be found so wrongful death can be proven.
Maintaining the Hustle. Once enough evidence lays out a clear-cut case, lawsuit preparations begin. Lawyers log many hours during this time. No detail can be overlooked. Deadlines loom. The at-fault party is notified you plan to sue. Documents are exchanged.
Pursuing a Resolution. Lawyers may schedule arbitration or mediation. A settlement is possible. If no agreement is reached, the lawsuit can continue as planned. Your case can be tried in court.
What Are Settlement Amounts for Nursing Home Wrongful Deaths?
There aren't set sums. Individual claims are reviewed. Damages are awarded on a case-by-case basis. Estimating how much you could clear based on past settlements awarded is near impossible. Factors that may come into play include:
Case Type. Nursing home cases that end in a wrongful death are more likely to settle at higher dollar amounts than those where victims recovered.
Decedent's Info. How old was the decedent? What was the overall health of the victim? Was the decedent enjoying a good quality of life before the incident? Settlements can be smaller when victims were extremely old with gloomy prospects.
Evidence. Sadly, it doesn't matter what happened. It matters what can be proved. The amount of evidence can make or break your case.
Expenses Caused by Incident and Death. Next of kin should not have out-of-pocket expenses because a loved one died.
Facility's Insurance. Nursing Homes in Illinois aren't required to carry liability insurance – at all! This concept spells T-R-O-U-B-L-E. The facility may have no way of compensating you when the unthinkable happens.
Facility's Past. When a facility was repeatedly warned about activities related to your loved one's death, there could be more money at stake. Especially if the facility did nothing to prevent the incident when problems were known.
Type of Negligence. Gross negligence looks much worse than a simple oversight. A staff member forgetting to lock a door one night in a dementia ward is one thing. A history of doors left open on purpose because staff members were lazy is another.
How Long do Nursing Home Lawsuits Take?
Again, there's no hard and fast rule. The amount of time needed varies with every case. Some cases can be settled in 18 months. Lawsuits that go to trial could last for years.
You need an attorney who can go the distance. If your lawsuit goes to court, will your lawyer have the resources to keep fighting until a resolution is reached?
What Are Nursing Home Negligence Statutes of Limitations in Illinois?
You generally have two years to file these types of claims in Illinois. The financial exploitation of an elderly person may differ. Some of these cases have a statute of limitations of up to seven years. Waste no time in meeting with a lawyer for the best results.
---
Get Our Team, Working In Your Favor