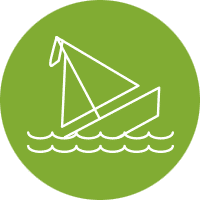 Chicago Boat Accident Lawyer
As Your Boat Accident Lawyer, We're Here to Fight for Your Rights
We all can agree that no one wants to be involved in any sort of serious accident, regardless of when or where it happens. However, an accident that occurs when you are out to have a fun, wholesome day can be very difficult to digest. Unfortunately, these accidents do occur sometimes.
What happens when you have a fun day on the water planned and the adventure turns into something traumatic and life-changing such as a boating accident? Do you know your rights as a victim of a water vehicle-related type of accident in Illinois?
Hurt in a Boating Accident? You Need to Watch This…
Discover why our clients have given our firm an average rating of 4.80. Call us to see how we can help you navigate the laws of a boating accident.
As a Chicago boat accident lawyer, we do know what is involved in this unfortunate type of accident. Shuman Legal® has extensive real-life experience in recreational watercraft and boating accident lawsuits in the Chicago area. We've seen what can happen when negligence, faulty equipment, driver error, or even drunk boating is involved. And unfortunately, the results can be very serious or even deadly.
The laws in Illinois are very specific when it comes to operating a boat or watercraft, and many of those laws are the same or similar to the laws for driving a motor vehicle on the road. When you are the victim in an accident involving any sort of pleasure vessel used on the water, having an experienced lawyer that knows the laws that water vehicles must follow is very important.
The fault of the accident has to be proven… and that's exactly why you need a seasoned professional boat accident attorney representing you. If boating laws aren't followed and an accident occurs, professional guidance from a law firm that has dealt with these types of accidents is the best way to ensure that you are compensated for an accident that was not your fault.
Have you or a loved one been hurt in a Boat Accident?


Have you or a loved one been hurt in a recreational boating accident?
We can help! Call us at 866-513-2194 to talk to an experienced boating accident attorney that knows what steps need to be taken to ensure you are not only protected but also compensated. We offer a free consultation to discuss your case without any obligation. And we will begin working on your case and gathering the evidence needed immediately after you sign on.
Decades of experience in boat accident cases in Chicago
Choosing the best watercraft-related accident attorney for your situation can be an intimidating task. Here are a few things to keep in mind when looking for a Chicago boat accident lawyer for the best personal injury representation for your case:
How long has the law firm been in business?
How many years have the firm's lawyers been practicing law?
Have they had real-life experience in boating accident lawsuits?
Are they well-versed in Illinois law regarding boat accidents?
What is the firm's client satisfaction rating?
Are they willing to supply you with references from past clients?
Shuman Legal®'s Years of Experience
Shuman Legal® has been in business for over 35 years, and within those 35+ years, we've successfully represented over 25,000 Illinois clients in personal injury and/or wrongful death lawsuits. We have a proven track record of case wins over the many years we've been practicing law.
We'll happily supply you with references from past clients that have dealt with similar cases to your own, as well as contact information to talk one-on-one for a personal reference. Or you can read the firm's client testimonials to get a feel for our past client's satisfaction levels.
Our firm takes each and every case very seriously. We'll keep in close contact with you throughout the entire process and will be there to guide you through the difficult decisions and questions.
FAQs
What is the boat accident claims process?
Just like any other accident, personal injury, or death claim, there are a few guidelines to follow to begin the claim process:
First and foremost, the most important step is to get appropriate medical care. Do not hesitate to call for help. This includes for yourself, your passengers, or people on the other boat or vehicle. Even if injuries appear to be minor, you need a medical professional to check everyone over. Sometimes injuries don't appear serious until the adrenaline wears off. If you, your passengers, or anyone else involved in the crash is injured or even potentially injured, the priority has to be on the health of human beings. Sometimes immediate treatment is the difference between a small treatable injury and a more serious one down the road. Your health and the health of your passengers and others involved is the most important thing to focus on.
Call 911 and report the accident to the emergency operator. The operator will make sure that the appropriate emergency services are contacted and/or dispatched to the accident location, as well as ensure that a full report of the accident is documented. This report is necessary for many parties, including insurance companies, court reporting, attorneys, and police.
Exchange contact information with the other water travel vehicle operator involved in the accident. Also, be sure to get the names and contact information of all passengers involved in the accident.
Get the contact information of any witnesses that may have observed what happened. Witnesses can be crucial in proving fault through the legal process.
Examine the physical damage to your property and document any damages that occurred from the accident. Take good photos of damages to your boat or vessel and to any other water vehicles involved.
Report the accident to your insurance company as soon as you are safe and able to do so.
Per Illinois state law, file a government report with the Illinois Department of Natural Resources (IDNR) if there was an injury that required more than first aid, a death, or the total property damage is $2,000 or more. This report must be filed within 5 days of the incident.
Hold off on repairing any damage to your property until the attorneys and insurance companies have all of the information it needs. Wait to perform any repairs.
Contact a reputable law firm to discuss the appropriate steps in the claims process. We can help you through this confusing process.
What is the biggest mistake you can make in a boating accident?
One of the most common mistakes made when discussing a boat accident is that a driver on a ship or boat feels that they should not blame a friend or family member for the accident, even if they are clearly at fault for the accident. Sometimes boat passengers get rowdy. It happens.
The most important thing to remember is this: Do not ignore any medical symptoms or injuries to anyone involved in the boating accident. Ignoring or putting off medical treatment is a dangerous roll of the dice. Oftentimes, injuries don't seem very serious immediately after an accident, but that doesn't mean that they are not serious! Sometimes injuries turn into much more serious problems if not treated as soon as possible.
How does the wrongful death process work?
Understanding wrongful death claims is difficult, due both to the complexity of the situation and the emotions involved in losing someone you care about. Because it is a complicated process, a professional law firm with experience in wrongful death cases is your best bet for guidance. You aren't expected to know how to bring an injury or death case to court… which is why you need to work with an attorney that knows the process.
Protect your rights by hiring the best boat accident attorney
When it comes to law cases involving boat accidents, you need the best when it comes to choosing a lawyer. Experience with boat accident cases is very important because they can be very complex. Having an experienced attorney beside you is the best way to protect your rights and ensure fair financial compensation.
How difficult is it to prove negligence in a boating accident case?
The key to winning a lawsuit when boating negligence is involved is to prove fault. If the other water vehicle operator was responsible for the accident, that responsibility can be demonstrated in court by an experienced lawyer. Your lawyer will work to prove to the court that the injuries, death, and/or property damages that occurred because of the crash were caused by someone's negligence. Your lawyer will work to prove that the other party failed to act with reasonable care, which caused the accident to occur.
What should be done right after a boating accident on an Illinois lake?
Illinois law states that a boat driver involved in a boat accident is required to:
Immediately stop at the scene to check for damages or injuries to the other party and his/her boat or watercraft.
Help anyone who appears to be injured or in danger, providing that it doesn't risk your own personal safety.
Collect the driver's name, address, and information on the boat, along with information about the damage to either boat. This process has to be submitted in writing to any person who was injured, and to the owner of any property that was damaged as a result of the accident.
How do I know who is liable in a boat accident in Illinois?
The party/parties considered liable and at fault for a recreational boat accident bear the legal responsibility for the accident. Liability can belong to one or several different parties, depending upon the situation. Did the accident occur due to a mechanical failure? Did it occur because a boat captain was impaired or made a judgment mistake? Did it happen because a passenger decided to cannonball off the side of a moving boat?
How long do I have to file a lawsuit for a boating accident?
According to Illinois law, any accidents that have resulted in serious injury or death must be reported to the IDNR within 48 hours of the collision. If a person has disappeared or been injured, those injuries must be reported within 5 days.
How are boating accidents different from other vehicle accidents?
Besides the obvious fact that boating accidents occur on the water and motor vehicle accidents occur on land, boating accidents have other distinct differences from other vehicle accidents.
The rules of operation for a watercraft vehicle differ because of the lack of driving lanes and traffic lights or signs. There are no actual driving lanes on the water like there are on the roads.
Boating accidents are bound by maritime law, which is different from traditional state and federal laws pertaining to motor vehicles.
What are the most common boating accidents?
Collisions top the chart when it comes to the most common types of boating accidents. Collisions can include either colliding with another water vehicle or a stationary object, such as a dock, or running aground.
Other types of boating accidents sometimes happen due to:
Driver inattention or recklessness
Driver inexperience
Environmental causes, such as high waves, large rocks, sandbars, or bad weather
High speeds
Hitting another boat's wake
Impairment due to alcohol or drugs
Mechanical failure of the boat or watercraft
Lack of safety equipment onboard such as life jackets, flares, a fire extinguisher, etc.
A person falling overboard
How much are boating accident cases worth?
Boating accident lawsuit compensations vary greatly depending upon the unique circumstances of the accident, if there were injuries or death, or if there was property damage. Other factors include permanent disabilities or lack of mobility, as well as many other important details.
How do I know who is liable in a boat accident in Illinois?
Several parties can be included in the liability for a boating accident, such as:
The boat driver/operator
The boat owner or manufacturer
A passenger on either watercraft
The company that designed and built bad replacement parts
If the boat was a rental, the boat rental company
What type of injuries are most common in boating accidents?
When a boating accident occurs, there are certain injuries that are more common than others. These include:
Traumatic brain injuries (TBI)
Cuts and lacerations
Spinal cord damage
Accidental drowning
Burns
Loss of appendages such as an arm or a leg
Bone and ligament injuries
Emotional and psychological damage such as PTSD
What Illinois lakes or rivers have the most boating accidents?
Although the statistics vary from year-to-year, the following bodies of water have the most boating accidents recorded.
From the highest number of incidents to the lowest:
Lake Michigan
Mississippi River
Fox River
Kankakee River
Clinton Lake
Lake Decatur
Rock River
Lake Holiday
Lake Shelbyville
Does hiring a boat accident lawyer mean higher settlements?
Having an attorney in your corner definitely increases the dollar amounts for either settlements or court cases. The payout can typically be up to 40% higher when you have an attorney that is experienced in personal injury or wrongful death boat accident cases. Our skilled lawyers will save you a lot of worry and anxiety.
A boat accident lawyer brings peace of mind
Being involved in a boat accident is difficult enough without having to navigate the process on your own. You may be dealing with pain from an injury or even worse, the pain that comes from the death of a loved one. It may be necessary for you to be out of work to recuperate from your injuries, which equals a loss of income while you are healing. Even though you know you have to give your body time to heal, you'll still be wondering how you will pay your bills while you recover, both physically and emotionally.
Accidents don't stop the normal goings-on with life. It would be impossible to know what to do and say without some experienced guidance from a professional. That's where we come in – we are your experienced professionals.
Our top-of-the-line attorneys have been there and they've dealt with this type of legal case many times. Experience is the most important teacher, and our lawyers have had extensive experience in boating accidents.
We have free downloadable articles available on our website that contain a wealth of information on legal processes. You can have this information in your hands in minutes. The more informed you are, the easier the process.
Shuman Legal® has represented over 25,000 injured victims, with more than fifty million dollars in various damages recovered for clients since 1996. Our team providing personal injury legal services will work tirelessly for you to secure the compensation you deserve.
Even though the process can be complex, Shuman Legal® in Chicago, Illinois has an amazing track record in winning many thousands of legal cases. Our years of courtroom experience will give you the guidance you need to get through this difficult time in your life. We've seen it all… Our team of professionals is here for you.
Get Our Team, Working In Your Favor