Nerve Damage: Average Workers' Compensation Settlement
Last updated Tuesday, January 17th, 2023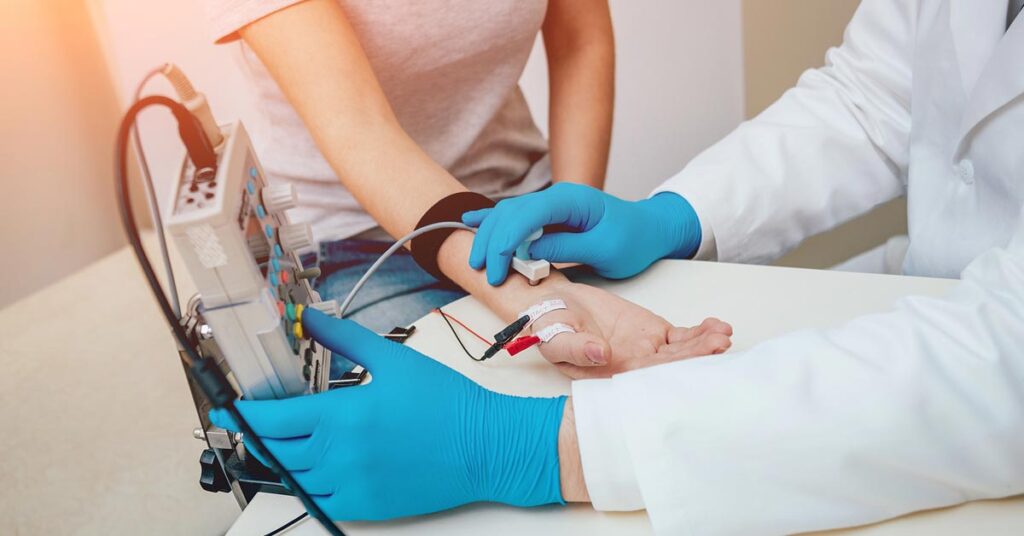 Have you ever felt a sharp pain that makes you immediately stop what you're doing? Or have you accidentally touched something hot and you find yourself pulling your hand away from the source without even realizing you were doing it? The nerves in your body are responsible for these types of warnings. You don't have to think about protecting yourself in these situations… your body automatically does it for you.
The nervous system is known to be the most organized and complicated of all the systems in the human body. Nerves are located everywhere throughout the body and are a vital and important part of communication between the brain and the individual parts of the body. Nerves are responsible for relaying warnings to your brain when something could or is happening within your body that can cause serious damage. For your brain to tell you that you should stop doing something because it can cause injury is the body's way of protecting itself.
Have You Suffered a Work Injury?


An experienced Arlington Heights workers' compensation lawyer knows what needs to be done. The minute you sign with Shuman Legal® – we start working.
What is Nerve Damage?
Nerve damage is very serious, and sadly more common than one would think. This type of damage to the body affects millions of people in the United States alone. Sometimes known as neuropathy, nerve damage disorders are disorders that affect the transmission of information between the brain, spinal column, and/or nervous system in the body. And since the nervous system is in the majority of areas in the body, there are many places that can become injured to the point of either short-term or permanent injury.
Is it curable? Can nerves heal? Will a serious injury to the nerves cause a permanent disability? The answer to these questions is this – sometimes and sometimes not. There are many "what-ifs" when it comes to the nerves. The extent of damage, what the cause of the damage was, where the injury occurred in the body, what types of underlying issues were involved, and what type of medical treatment you need will all determine how extensive your nerve damage is and if it is treatable, temporary, or permanent.
One of our specialties is cases involving Workman's Comp injuries that have arisen from injuries received while on the job. Nerve damage unfortunately is not uncommon in the workplace, especially when there is an accident or repetitive motion involved.
It is the responsibility of the employer to maintain a safe environment for workers. If you find yourself in a situation where you think you have a nerve injury, please contact our law firm to discuss what types of options are available to you. We have many resources available to help along this journey.
What Causes Nerve Damage?
Nerve damage is often caused by an injury or accident, such as a work-related injury, a fall, a collision, a motor vehicle accident, a sports-related injury, or other traumatic injuries to the body. It could present as serious pain immediately or could take some time to show. Since the nervous system is so sensitive, the timing could be short or long before even feeling any severe pain.
Where Can I Find Out the Average Settlement for Nerve Damage?
When searching the internet, you'll find that there are many different answers to this question. And that is typical for this type of injury… because there are many different variables involved.  We have created a calculator to help assess your injuries in a Worker's Comp settlement case. This calculator can give you more information on your particular injury.
Determining the average amount of settlement for cases for workers' comp cases that involve nerve damage can be tricky. The amount of compensation can vary greatly and really depends upon the injury and amount of pain suffered. The median amount recovered is around $20,000 in the United States, but can range anywhere from a few thousand dollars to hundreds of thousands of dollars.
The severity of the injury, type of injury, the area of the body affects, etc. all contribute to the payout amount for the injured party.
What is the Lifelong Cost of Having Nerve Damage?
The cost of living with a nerve injury, especially a serious one, can be astronomical. Between medical treatments, physical therapy, and prescription medications, the cost can be thousands of dollars or more each month. If you find relief from other types of treatments, such as chiropractic or holistic treatments (like acupuncture), your health insurance may not cover those costs at all.
Nerve injuries can cause not only pain, but debilitation for the sufferer. High medical costs may be a life-long issue due to the severity of the injury, especially if the injury caused permanent damage.
How Do I Prove a Nerve Damage Claim?
The first step in proving nerve damage would be to have a neurological examination. There are several tests that can be given by your medical doctor to show neurological damage.
One such test is called an Electromyogram, otherwise known as an EMG. Another common test is the nerve conduction velocity (NCV) test.
Neurological testing measures the electrical currents flowing through the nerves and records the amount of electrical activity from the brain to the specific area of injury.
There are also other types of tests given to patients to determine the amount of damage, such as:
Computerized tomography scan, more commonly known as a CT scan. CT scans use x-ray imaging taken from different angles to look in more detail at the parts of the body affected. These x-ray images are processed by computers to show extremely detailed cross-sections of the affected area.
---
Get Our Team, Working In Your Favor