Work Hard Play Hard Contest 2022
Last updated Tuesday, August 16th, 2022
After a huge success running this contest last year, we decided to do it again in 2022!
Each year, the month of June is known as National Safety Month, sponsored annually by the National Safety Council. The goal for this month is to help reduce the leading causes of injury and death at work and in our communities. As a law firm that works on many workers' compensation cases, each year we want to use this month to spread awareness about construction site hazards and how to make the workplace safer. Our Work Hard, Play Hard contest is becoming the perfect way to do it each year!
This Year's Voting Results
With teams in every professional sport, including two baseball teams, Chicago is a mecca for any sports fan. We decided to ask baseball fans "Which Team Works and Plays Harder… The White Sox or the Cubs?"… and give away a set of four tickets + a parking pass to one lucky entrant to see their favorite team in action.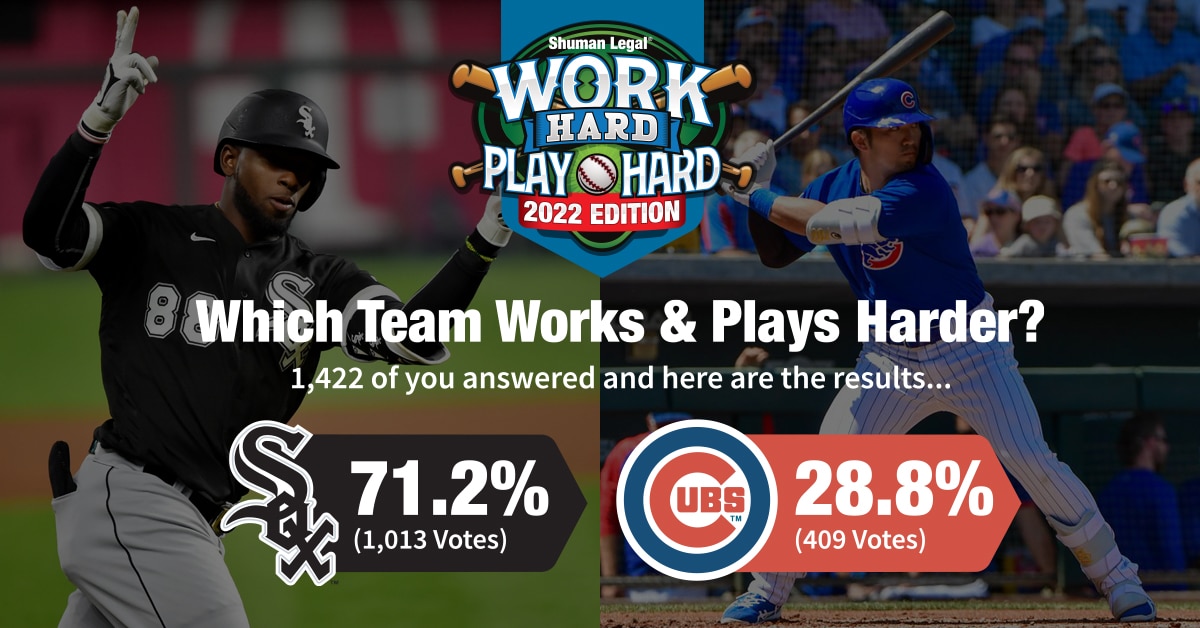 Again, in having Chicago fans answer this question, we were quickly reminded how passionate they are about their baseball teams. 1,422 people answered via our Facebook Page with hundreds more leaving additional comments on our page. It was a colorful debate as to which team works and plays harder, with the Sox getting 71.2% of the vote and the Cubs getting 28.8%.
Who Won The Grand Prize?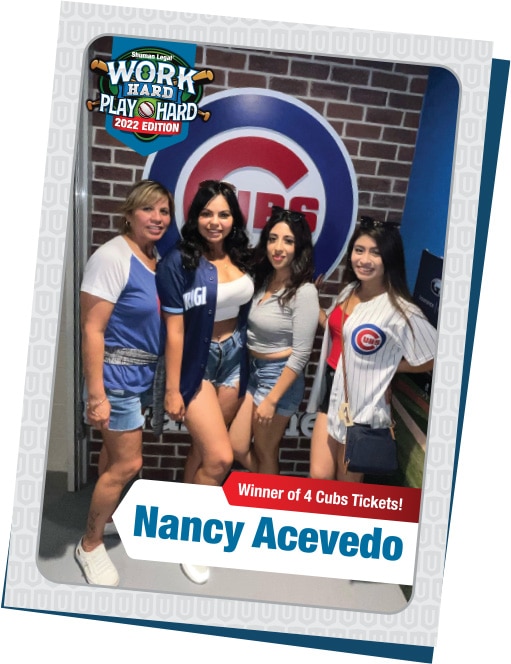 This year's contest was won by Nancy Acevedo of Chicago. As a huge Cubs fan, we were able to hook her up with four tickets plus a parking pass to the Cubs versus Orioles game at Wrigley Field on July 12th, 2022.
"My girlfriends and I had a blast at the Cubs game! Thanks so much to Shuman Legal® for the great seats!"
Nancy Acevedo
Once again, a huge thank you to everyone who participated in this contest, the turnout was incredible! Let's do it again in 2023!
---
Get Our Team, Working In Your Favor