Woman killed in a Chicago car crash on I-94
Last updated Friday, May 12th, 2023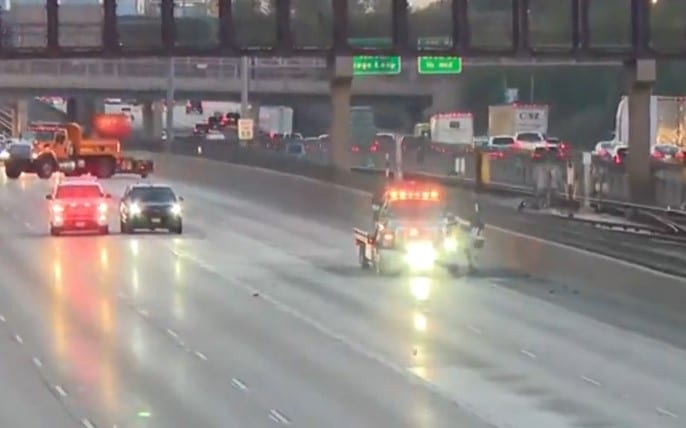 A woman was killed in a tragic Chicago car crash Wednesday, May 10 morning. Illinois State Police reported the three-car accident on the outbound Dan Ryan at 95th Street, south of I-94, at about 12:30 AM.  
Based on initial reports, all three vehicles – a blue Ford Escape, a black Ford Escape, and a beige Nissan Altima – were driving southbound when the black Ford and the Altima had to slow down as there as there was a collision ahead. The blue Ford failed to slow down quickly enough and slammed into the Altima. Due to the powerful impact, the Altima crashed into the black Ford before crashing into the concrete median on the left.
Altima's driver, identified later as Lataya L. Lyons, 20, of Gary, Indiana, was taken to the hospital, but she died soon after arrival. The driver of the blue Ford Escape, a 49-year-old woman from Homewood, Illinois, went to an area hospital with minor injuries. The police gave her a citation for driving too fast. Black Escape's driver, a 71-year-old man from Chicago, did not suffer any injuries.
The Illinois State Police is investigating the crash and will release more information once it becomes available.
We extend our deepest condolences to the Lyons family during this difficult time.
Lost a Loved One in a Car Accident?


Our team of Chicago car accident lawyers knows exactly what to do. Get Your FREE Legal Advice Today!
Chicago car accident ends in heartbreak
I-94 remains one of the most dangerous streets in Chicago for car accidents. Illinois has experienced a rise in crash-related deaths since 2019, when there were 1,010 fatalities in 938 crashes. In 2022, there were 1,334 fatalities in 1,210 car accidents in Chicago.
Auto accidents occur in Chicago for the same reasons as the rest of the nation:
Distracted driving

Drunk driving

Speeding

Reckless driving

Drowsy driving
Losing a loved one to a car accident is a life-changing event. You find yourself with so many questions and no answers. Anger, guilt, and sadness will wash over you. Expenses for funerals, medical bills, and lost income may also cause financial hardship. It is crucial to seek help and support during this difficult time.
If you have lost a loved one to a car accident, be assured that you are not alone during this difficult time. Shuman Legal's team of dedicated and experienced car accident lawyers can help you understand your legal rights and options and can fight for the compensation you deserve.
Our Chicago car accident lawyers will fight for you every step of the way. We understand that no amount of money can bring back your loved one, but we can help you get the financial resources you need to rebuild your life.
Please don't hesitate to contact Marc Shuman at (866) 986-0247 for support and guidance whenever needed.
---
Get Our Team, Working In Your Favor