Seven dead, dozens hurt in Illinois car crash caused by a dust storm
Last updated Wednesday, May 3rd, 2023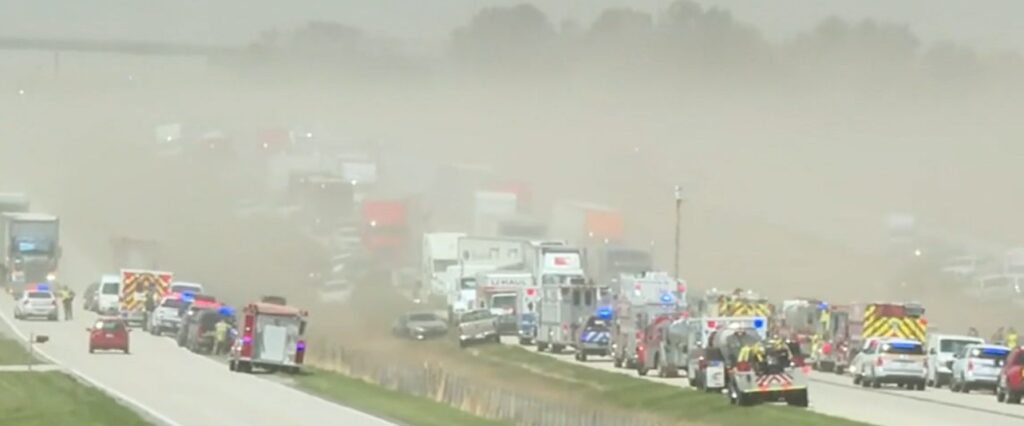 Seven people are confirmed dead and dozens injured in a central Illinois car crash following an intense dust storm along I-55 south of Springfield on Monday, May 1 morning.
The Illinois State Police (ISP) says the crash occurred shortly before 11 AM on I-55 in Montgomery County. Multiple chain-reaction accidents occurred on northbound and southbound lanes of I-55 over a 2-mile stretch. A massive 73 vehicles were impacted by the incident, including two semi-trucks that caught fire pretty fiercely. 
The duststorm victims said visibility was almost nonexistent once they got inside the cloud, which moved over them without warning. Several of them collided with other vehicles because they did not have time to brake.
More than 30 agencies responded to the scene to assist. Thirty-seven people went to nearby medical facilities with injuries ranging from minor to critical. Injured people range in age from 2 to 80 years old.
All those who tragically lost their lives were found "dead at the scene." It wasn't until Tuesday that the remains of what initially appeared to be one person turned out to be two. The "severity of the crash masked the remains," a police statement said.
The Montgomery County Coroner's Office identified one victim as Shirley Harper, 88, of Franklin, Wisconsin, a passenger in her daughter's car. Luckily, her daughter survived and is in the hospital right now. The Illinois State Police is coordinating closely with the Coroner's Office on identifying the other deceased and will release more information once identification is complete and proper notifications have gone out. 
All the deceased's families and friends deserve our deepest condolences. Our prayers are with the injured for a speedy and complete recovery.
Lost a Loved One in a Car Accident?


Our team of Chicago car accident lawyers knows exactly what to do. Get Your FREE Legal Advice Today!
It was a horrific, unthinkable Illinois car crash
Natural causes like extreme weather conditions sometimes trigger devastating car crashes. Severe weather conditions like rain, snow, ice, fog, or dust storms can contribute to accidents by reducing visibility, creating slippery road conditions, or causing vehicles to lose control.
In Illinois, car insurance operates under a fault-based system, meaning that the person found to be at fault for the accident is generally responsible for covering the damages. However, when a car crash occurs due to natural causes, it can be difficult to establish liability.
If you were involved in a car crash in Illinois due to inclement weather, the compensation you may be entitled to could depend on several factors, including the specific circumstances of the accident and the insurance policies involved.
In such cases, it might be difficult to establish fault unless another driver acted negligently. If you are in such a situation, you may need to rely on your insurance coverage or file a claim under your collision or comprehensive policy, depending on the circumstances and your coverage.
It's essential to review your insurance policy or consult with a qualified Illinois car accident attorney to understand the specific terms and conditions under your plan and determine the best course of action for seeking compensation. Getting legal advice from someone who's familiar with Illinois law and can provide advice based on your case's details is essential.
The loss of a loved one in a car accident carries a profound and devastating impact, altering life forever for the grieving family. The consequences of this unfortunate death affect everyone around them, forever changing their perspective and leaving an indelible mark on their hearts. 
Shuman Legal is committed to protecting accident victims' rights. Our aggressive team of wrongful death lawyers in Illinois will fight for you to seek the compensation and justice you deserve. 
Call (866) 986-0247 to schedule your free consultation with Marc Shuman.
---
Get Our Team, Working In Your Favor