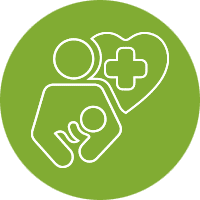 Chicago Birth Injury Lawyer
We're Here for You – Chicago Birth Injury Lawyers
Ideally, mom and baby both come home together healthy. A birth trauma attorney will never even enter the picture. When everything goes right, the miracle of birth can be truly amazing. The trouble comes when things go south. What should be a beautiful experience can lead to lifelong hardships- or worse.
Childbirth is a natural process but there's still a risk. There are many steps that go into welcoming a new life. Various professionals may be involved. A combination of nurses, doctors, anesthesiologists, midwives, and doulas may be active participants.
If mistakes happen around this important time, terrible consequences often follow. When those mistakes were preventable, those at fault must be held accountable. Take action to ensure your family is the last impacted by such carelessness.
Birth trauma can be a permanent burden. Let Shuman Legal® fight for compensation to help ease this hardship. Our attorneys can get you the money you deserve. We're here to listen to your case and go after the justice you seek.
Has Your Newborn Suffered a Birth Injury? You Need to Watch This…
Discover why our clients have given our firm an average rating of 4.75. Call us to see how we can help you navigate the laws for burn injury victims.
Birth Injury to Baby
Swaddling that precious bundle of sweetness may have to wait if a birth trauma occurs. Most babies come ready to embrace the world. Those who sustain injuries during labor typically have a harder time adjusting to life outside of the womb.
While not permanent, even minor injuries such as bruising, swelling, or cuts can happen to babies during childbirth. Bone fractures tend to heal fairly quickly. Then there are life-changing conditions like cerebral palsy, brain damage, and nerve injuries, to name a few. Such ailments can plague victims their entire lives.
Birth Injury to Mom
Newborns are often the main focus, but labor can jeopardize a mother's health too. A traumatizing birth can cause physical and/or emotional wounds. While some more common issues can heal with time and care, others need special treatment.
Maternal Death
Each year, hundreds of women die from pregnancy-related complications in the U.S. Given the top-notch facilities and quality of care, this figure is startling. The Centers for Disease Control and Prevention (CDC) estimates that roughly 60 percent of these deaths are completely preventable. Mothers and babies deserve better.
Fetal Death
CDC figures reveal nearly 20,000 U.S. babies died before the age of one in 2020. While not every case was directly related to childbirth, many were. Birth defects, being born too early, having a low birth weight and pregnancy complications caused infant mortality.
Has Your Little Bundle of Life Suffered a Birth Injury?


How can a Chicago birth trauma lawyer help you?

You may be overcome with worry and wonder who can be trusted. Attorneys at Shuman Legal have the experience you need in times like these. We can help you in three main ways:

Consult with you free of charge. You tell us what happened. We listen. If we believe you're entitled to seek damages, then we can begin working together.
Do some digging. We'll get the scoop on exactly what happened to cause your birth trauma. Our investigators will establish how the damage was done, and whether injuries were caused during pregnancy, delivery, postpartum or postnatal periods. We may call on medical experts for additional help.
Determine the best strategy to get the highest compensation allowed. We'll use our experience to prepare your case. We may decide to file a settlement demand. If an acceptable figure isn't reached, we may bring your case to trial. Whatever route we go, you can believe it's in your best interest.

What types of birth injuries are caused by medical negligence?

Birth trauma injuries can occur for a variety of reasons. Medical professionals aren't responsible for every problematic delivery. But when these trained specialists could and should have prevented injuries, they must be held accountable.

In babies, medical negligence can cause:

Brain damage
Cerebral palsy
Erb's palsy
Infant hematoma
Intraventricular hemorrhage
Kernicterus
Skull fractures
Spinal cord injuries
Stillbirth

In mothers, medical negligence can cause:

Blood pressure that is too high or too low
Damage to bladder, bowel, and/or uterus
Incontinence
Long-term pain
Loss of blood
Mental health issues
Uterine and/or vaginal tearing

What are common types of birth injuries?

Making a grand entrance can be scary. All sorts of problems can happen anywhere along the journey. Birth injuries that occur most often may include:

Brachial plexus paralysis. The arm is controlled by brachial plexus nerves. If these nerves are damaged during delivery, certain parts of the body may not function as they should. Erb's palsy occurs when elbow and shoulder muscles are impacted. A total plexus palsy affects an infant's arm, hand, and wrist muscles. Tearing or stretching this area of the neck can cause such injuries.

Brain damage. Fetal distress and other complications during labor can wipe out brain matter. Results can be devastating. Cerebral palsy may be the outcome you must now face.
Bruising. The birthing process can result in three kinds of bruises for infants. Intramuscular bruises are inside the muscle itself. Periosteal bruises can be found both atop and/or underneath bones. Subcutaneous bruises develop under the skin.
Cephalohematoma. If blood vessels are hurt during delivery, blood can pool under a newborn's scalp. The impacted area typically feels soft to the touch, especially at first.
Fractures. The clavicle, or collarbone, can fracture during difficult deliveries. Fractures may occur in other areas of the body as well like the humerus, or arm bone. An extracranial injury can lead to a fractured skull.
Hemorrhaging. A subarachnoid hemorrhage occurs when there's bleeding in the area between the brain and its tissues. Intraventricular hemorrhages impact the brain's ventricular system. This serious condition can be seen in babies who are born prematurely or have a low birth weight.
Lack of oxygen. When the oxygen supply is cut off to a baby during childbirth, brain injuries can easily follow. Cerebral palsy, shock, coma, and/or perinatal asphyxia could strike.
Paralysis. Facial paralysis can happen when these nerves are manhandled during the birthing process. Trauma to the spinal cord can cause severe paralysis.
Swelling. Caput succedaneum is a swollen part of the scalp caused when pressure was applied too forcefully during delivery. This common type of edema tends to heal naturally.

How can mothers be injured during childbirth?

Just because medical science has made great strides doesn't mean moms are in the clear. Maternal injuries may include:

Complications. When things go awry, new moms can get the short end of the stick. An epidural can do more harm than good. Botched cesarean sections may leave mothers with any number of problems.
Nerve injuries. Incontinence can arise when pudendal and/or pelvic nerves are damaged during childbirth. Femoral nerve injuries can leave legs feeling numb or wobbly.
Post-partum mental health conditions. Post-partum depression, birth-related post-traumatic stress disorder, and post-partum psychosis can be serious. These struggles can be more distressing than physical injuries. Moms who feel these disorders invite judgment and may not seek much-needed treatment.
Uterus damage. If the placenta inverts the uterus, your body can go into shock or begin hemorrhaging. Uterine prolapse occurs when pelvic floor muscles weaken so much they can't offer support; the uterus then slides to an unhealthy position. A torn uterus can lead to life-threatening uterine rupture.
Vaginal tearing. Minor tearing is fairly normal when having baby number one. When tears go deeper, muscles or other nearby areas may be impacted. Such trauma can require surgery.

How much can you receive in an Illinois birth injury lawsuit?

Something that sets the Land of Lincoln apart from many other states is the lack of a cap on damages. Birth injury victims are free to pursue every last penny of compensation.

Although the sky's the limit, settlement demands usually mirror the type of birth trauma and degree of injury. Getting a high amount of compensation means determining a practical sum. Our attorneys at Shuman Legal can work with you to figure out the right amount.

How long does someone have to file a birth injury lawsuit in Illinois?

Depending on who is injured and how badly a party is hurt, there are different answers to this question.

Illinois statute of limitations are:

Eight years after an infant's birth injury is discovered
Two years for filing a claim when the mother was injured during delivery
Two years to file a claim for wrongful death

How common are birth injuries?

No year is exactly the same. Statistics offer insight. Approximately seven infants will sustain some type of birth injury out of every 1,000 babies delivered in the U.S. This figure is disturbing, considering more than half of these traumas could have been avoided.

How do birth injuries occur?

There are so many factors involved in each birth. If any one thing goes awry somewhere along the line, your child can be left with debilitating birth trauma. Mistakes may come from:

Bungled equipment use. Doctors continue to use both forceps and vacuum extractors. When these tools are used incorrectly or too much pressure is applied, delivery trauma can occur.
Cesarean section delays. If labor isn't going as planned, medical professionals need to be willing and ready to perform a c-section. Putting this procedure off may bring dire consequences.
Lack of postnatal care. Both babies and moms must be monitored closely immediately following delivery. Failure to do so can bring repercussions.
Medication mishaps. Drugs must be prescribed carefully. Negative side effects must be considered thoughtfully. The right dosage is also important. Anesthesia during labor must be injected correctly.
Poor response to fetal distress. Sound decisions must be made quickly when an infant is in crisis. Every second counts in these situations.
Preterm delivery. Giving birth ahead of time, especially weeks or months early, can have a devastating effect on babies. Premature infants are smaller and can have many more complications.
Problems during pregnancy. Not every birth injury begins in the delivery room. Infections can be overlooked or misdiagnosed. Gestational diabetes, preeclampsia, and placental abruption are serious conditions that must be diagnosed. Proper treatment can prevent harm to both baby and mother. Genetic testing must be performed accurately as well.

Are all birth injuries a result of medical malpractice?

No. Blame for a birth-related injury doesn't always fall on medical providers. Sometimes things don't turn out the way we planned. Certain conditions are risky, such as:

Advanced age of mother
Breech presentation
Carrying multiple fetuses
Delivering a large infant (heavier than eight pounds and 14 ounces)
Mother's inadequate pelvis size and/or shape
Obesity in mother
Premature and/or underweight babies

How can birth injuries be avoided?

There are no set rules here. Taking the following precautions when pregnant can help prevent an injury during delivery:

Dodging drugs and alcohol. Save cocktails for after the baby arrives. Skip that morning cup of coffee. Don't use products with tobacco or nicotine.
Eat healthy meals regularly. A balanced diet is key. Avoid skipping meals.
Get prenatal care. Find an obstetrician you trust. Keep every appointment. Follow medical advice.
Stay well rested. Enough sleep is critical for preparing mom and baby for delivery day.
Take prenatal vitamins. Folic acid, iron, calcium, and iodine are needed nutrients during this developmental time.

Is cerebral palsy a result of a birth injury?

Each case is unique. This condition falls into two main categories. Once a child is born, the acquired type of cerebral palsy can develop. Brain damage causes congenital variety before or during childbirth.
Get Our Team, Working In Your Favor