Motorcycle crash in Round Lake Beach leaves teenager dead
Last updated Monday, April 17th, 2023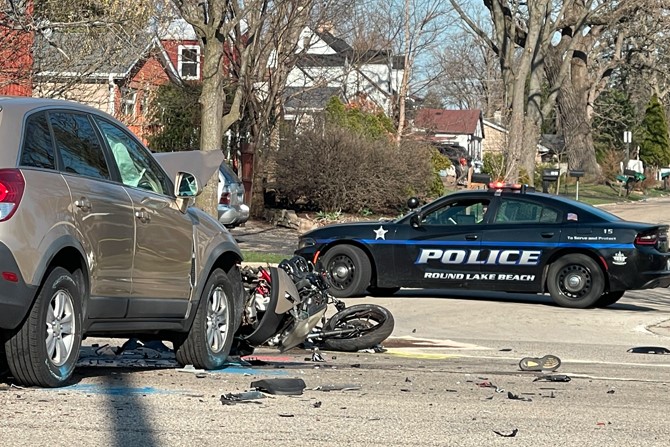 An Illinois teenager was tragically killed in a motorcycle crash in Round Lake Beach on Monday, April 10 afternoon.
Initial investigation by Round Lake Beach police indicates that the collision occurred at Cedar Lake Road and Ferndale Drive when the southbound teen collided with a Saturn SUV at the intersection of Ferndale Drive at about 2:30 PM. The victim was reportedly unresponsive, not breathing, and without a detectable pulse. Both the motorcycle and SUV were recovered from the south intersection following the collision.
The teen was transported to Advocate Condell Trauma Center, Libertyville by paramedics from Round Lake Fire Protection District. Unfortunately, he was pronounced dead on arrival, Round Lake Beach Police Deputy Chief Ryan Rodriguez said. The deceased's name has not yet been revealed. The SUV driver did not suffer any injuries.
This crash is under investigation by the Round Lake Beach Police Department and the Lake County Major Crash Assistance Team.
Lost a Loved One in a Car Accident?


Our team of Chicago car accident lawyers knows exactly what to do. Get Your FREE Legal Advice Today!
A traumatic motorcycle crash in Round Lake Beach
In comparison to driving a car, riding a motorcycle poses significantly higher risks because accidents can result in catastrophic damage. Over 5,000 motorcyclists were killed and tens of thousands injured in crashes across the country during the last reporting period for which data is available, according to the latest NHTSA Motorcycle Traffic Safety Facts report. 
Speeding is probably the leading cause of motorcycle accidents in the United States. Young riders love the thrill of riding but are often unprepared for the unexpected, especially at intersections where staying out of oncoming traffic is crucial.
It is heartbreaking and life-changing when someone you love dies, and families experience long-term consequences after an unfortunate death in a motorcycle accident.
Shuman Legal is committed to protecting accident victims' rights. Our aggressive team of motorcycle accident lawyers in Illinois will fight for you to get you the justice and compensation you deserve. 
Call (866) 986-0247 to schedule a free consultation with Marc Shuman.
---
Get Our Team, Working In Your Favor