How Our Passenger Injury Lawyers Can Help You Get A Bigger Settlement
Last updated Thursday, October 19th, 2023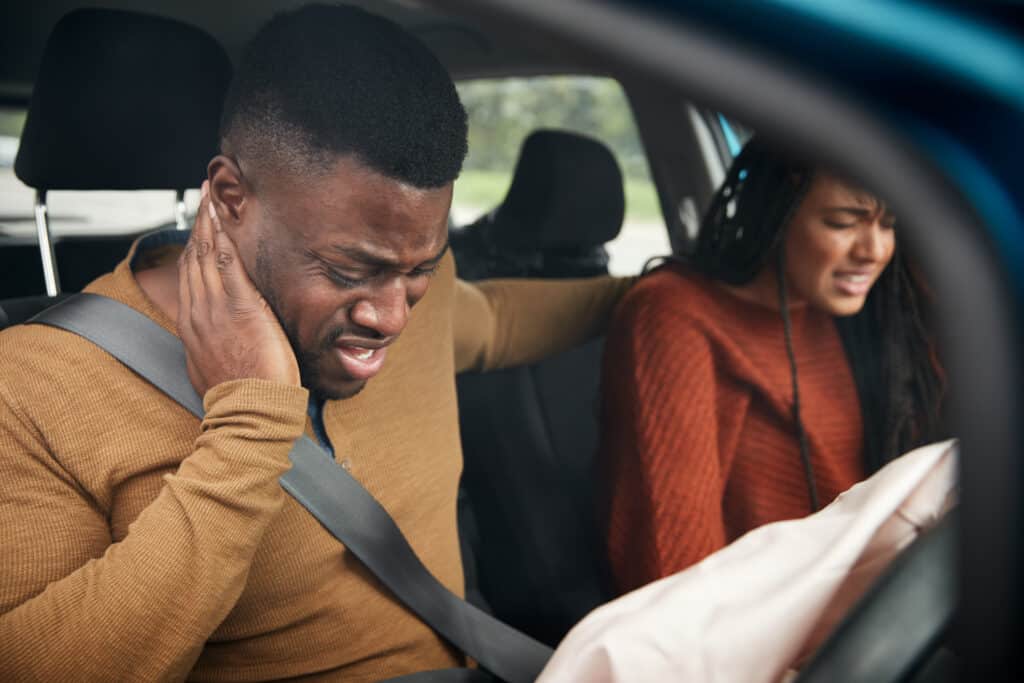 You Have Rights as a Passenger in a Car Accident!
Passengers face the same risks as drivers and pedestrians involved in a car accident.
That's why they're legally entitled to seek the same types of compensation available to them, such as:
Existing and possible future medical expenses
Property damages
Lost earnings/lost earning potential
Mental anguish
Scarring and disfigurement
Disabilities
Your personal injury claim will mainly be a battle between insurance companies representing you and other parties involved.
The truth is none of them are on your side, including your own insurance company. They are simply hunting for a way to push liability onto your shoulders and minimize your payout.
The insurance policies of everyone involved will strongly impact the final settlement they green light.
Your policy will have specific limits for:
Bodily injuries.
Unique coverage for others involved in the accident.
Vehicle/property damage.
Things get complicated when the driver at fault is uninsured or poorly insured. Even though you clearly establish it's their fault, you can't recover what you're owed. However, it doesn't mean you'll be walking away empty-handed.
You can file a claim against your own uninsured motorist coverage to get compensated. Or you may even file a personal injury lawsuit against the driver at fault. But you may not get much if the driver lacks both insurance and personal assets cover your losses.
Liability in Car Accidents
Liability is just a legal term for "fault." The consequences of every car accident are unpredictable, but the causes will become clear once there's enough evidence.
Every driver owes a duty of care to other drivers, passengers, and pedestrians on the road. If they violate this duty and trigger your accident, you have the right to hold them liable and seek compensation from them.
The more proof of negligence you can gather, the better your compensation will be.
However, determining liability is not a black-and-white scenario in most cases.
It's important to understand the different types of liability involved in car accidents, such as:
When your driver is at fault – Your driver owes you a duty of care when you're riding in their car. If it's clear that their negligence was the main cause of the accident, you can hold them liable for your injuries. You can file a claim against their insurance company to get compensated for your losses.
When the driver of another vehicle is at fault – You can file a claim against the insurance company of the driver at fault. You'll be able to cover your injuries and damages through their coverage. You may also file a personal injury lawsuit if they fail to properly compensate you.
When both drivers share fault – Georgia is an at-fault state that follows a comparative negligence standard for personal injury cases. It means that both drivers may share a degree of fault for the accident. Now the degree of their fault is what determines the size of their compensation. It can be a complex process determining liability in such cases sometimes, but you don't have to worry about it. As a passenger, you can file a claim against the insurance companies of both drivers to cover your losses.
When the car manufacturer/maintenance company is at fault – There are a few cases where a vehicle defect or maintenance errors triggered the accident. You can file a claim against the manufacturer or company where the maintenance work took place.
When other parties are at fault – Want to know why it's so critical to take pictures and videos immediately after the accident? It's to help you get a complete picture of all the factors that played into your accident. Check for any road potholes, debris, improper signage, or poor lighting that could've triggered your accident. You can seek compensation from any parties that contributed to this negligence.
Understanding Passenger Injuries in Car Accidents
Passengers face the same risk of injuries as drivers, which may range from a few bumps and bruises to life-threatening conditions.
Here are some of the most commonly reported injuries faced by car passengers:
Whiplash
Traumatic brain injuries
Back injuries
Broken bones
Internal bleeding
Burns
Scrapes, cuts, and bruises
Calculating Passenger Settlements in Car Accidents
95% of personal injury lawsuits get settled before going to trial. It helps to set your compensation expectations straight before you file a claim.
What do you consider a reasonable settlement? Does your case justify the settlement you're aiming for? These are the first questions on your mind when you're thinking about filing a claim.
You can use our free car accident settlement calculator to take the first step to answer your questions.
Most online settlement calculators use a basic formula to give you an instant estimate of your settlement.
However, a calculator is not a lawyer.
We like to go the extra mile by having our lawyers personally review this calculation to give you a more accurate figure.
Here's what our accident settlement calculator will evaluate:
Date of accident
Severity of your injuries
Total medical expenses (past and projected)
Property damages
Lost earnings
Insurance policy limits
It's only meant to give you a starting point for your settlement talks with insurers and lawyers.
Also, there's no way for these calculators to evaluate compensation for your non-economic damages like anxiety, PTSD, and depression after the accident. Only an experienced passenger injury attorney can give you a clear picture.
Call us for a FREE case review today and we'll let you know what your case is worth.
Case Studies: Passenger Settlements in Car Accidents
Your case settlement depends on the severity of your losses, extent of liability, and volume of evidence. It also depends on how effectively your lawyer presents and negotiates your case.
Some cases are straightforward and get settled within 6 months to a year. More complicated ones can stretch on for over two to three years. But it's absolutely worth seeking justice for your accident. We've seen a massive trail of successful settlements in passenger injury cases just like yours.
We've compiled four case studies of popular passenger settlements in car accidents over the last few years:
$4.6 million whiplash settlement – A 53-year-old male passenger got caught in a T-bone accident suffering severe short-term and long-term injuries. A reckless driver ran a stop sign and slammed the car he was riding in. He faced severe skin lacerations due to the shattered windshield. But the worst was not over yet. He experienced delayed neck and back pain, which was triggered by herniated discs and severe whiplash. The man had to undergo cervical and lumbar fusion surgery and hours of physical therapy to fully recover. He ended up getting a $4.6 million whiplash settlement.
$1.6 million head-on collision settlement – A back seat passenger survived a deadly head-on collision with multiple severe injuries from head to toe. The driver at fault made an illegal left-hand turn obstructing the car carrying the passenger. It led to a fatal head-on collision causing injuries like traumatic brain injuries, broken pelvis, neck fracture, whiplash, and a broken leg. The driver at fault's insurance company initially offered a $300,000 settlement. However, the depositions of medical professionals and witnesses made it clear that this issue was much more serious. The injured passenger had suffered a traumatic brain injury with permanent consequences. The insurance company tried to settle the case at $750,000 during mediation. However, it was finally settled for $1.6 million dollars after a lengthy litigation period.
$500,000 rear-end collision settlement – A 21-year old car female passenger suffered severe neck and spinal injuries after being rear-ended while their vehicle was stopped. The injured passenger's MRI report revealed multiple herniated discs in the neck and back. She has to take several steroid injections and undergo multi-level cervical spine surgery. The defendant's insurance company tried to lowball the passenger by offering just $55,000 to settle the case. A lengthy civil suit had to be filed to prove the severity of the passenger's injuries and expose the liability of the defendant clearly. They tried to level up their offer to $250,000 during the mediation process. However, they eventually settled the case for $500,000 when the seriousness of the injured passenger's condition couldn't be ignored anymore.
$575,664 Uber verdict – An uninsured minor driver rammed into an Uber vehicle causing severe injuries to a passenger riding in it. The injured passenger's losses easily exceeded the minor's insurance policy limit. So the passenger decided to file a claim against Uber's uninsured motorist coverage to cover his losses. that exceeded the policy limits of the minor who was at-fault for the accident. Uber tried to challenge the extent of his injuries and the case eventually went into trial. The jury ruled in favor of the injured passenger awarding him $575,664 as compensation. It's important to note that Uber and Lyft passengers will only pay for your claim if there's not any other liable driver available to pay. Both Uber and Lyft offer uninsured motorist coverage up to $1 million per accident. However, it only applies if your accident happens when the Uber driver has accepted you as a passenger on their app.
---
Get Our Team, Working In Your Favor