Chicago multi-vehicle accident kills one, injures nine
Last updated Wednesday, May 17th, 2023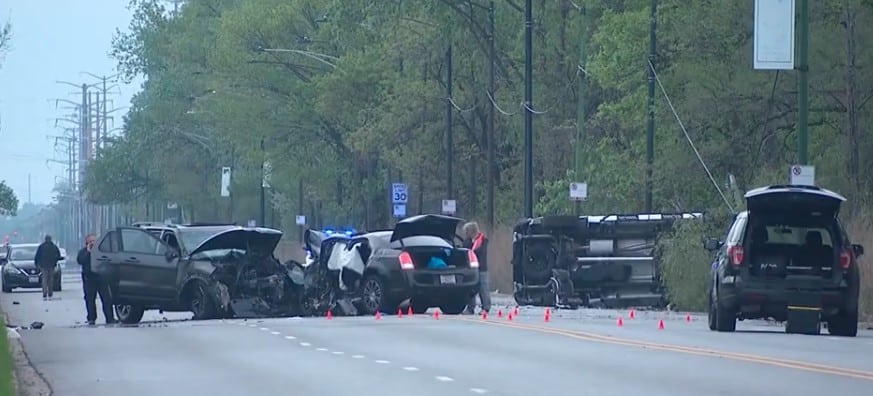 In the afternoon of Saturday, May 13, there was a horrific Chicago multi-vehicle accident that killed one and injured nine others, on South Torrence Avenue, on the city's Far South Side.
The accident occurred when a northbound driver on Torrence Avenue crossed over the southbound lanes and hit an SUV head-on. Trying to avoid the crash, two other southside cars crashed.
The Chicago Fire Department (CFD) reported that the sedan's driver was pronounced dead at the Advocate Christ Hospital. Seven adults were critically injured, and three children aged nine, five, and two were taken to Comer Children's Hospital. According to Chicago Police, their condition is stable.
Currently, no citations have been issued, and an investigation is underway by the Major Accidents unit.
We extend our deepest condolences to the family of the deceased. Our prayers are with the injured for a speedy and complete recovery.
Lost a Loved One in a Car Accident?


Our team of Chicago car accident lawyers knows exactly what to do. Get Your FREE Legal Advice Today!
Chicago multi-vehicle accident ends in tragedy
Chicago, a large metropolitan city with a high traffic rate, experiences a lot of multi-vehicle crashes. Many factors, including heavy congestion, inclement weather, distracted driving, and reckless behavior, can contribute to these accidents. 
Authorities in Chicago work diligently to enforce traffic laws, educate drivers, and improve infrastructure to minimize accidents and ensure road safety. Despite these efforts, it remains crucial for drivers to stay vigilant, obey traffic regulations, and practice defensive driving to reduce the likelihood of accidents and promote a safer driving experience in the city.
Traffic accidents destroy the lives of families emotionally and financially. While it's difficult not to feel helpless after your loved one dies in a car accident, you gotta fight for justice. You can get justice and compensation for your loss through a lawsuit against the negligent party.
As experienced Chicago car accident lawyers, Shuman Legal will advocate for the rights of your loved one, guide you through the legal process, and work to secure the compensation your family deserves. Having us on your side lets you focus on your recovery while we handle the legal issues.
If you have any questions, please contact Marc Shuman at (866) 986-0247.
---
Get Our Team, Working In Your Favor