Bicycle Riding & Visibility | If they can't see you – you're not safe!
Last updated Friday, August 19th, 2022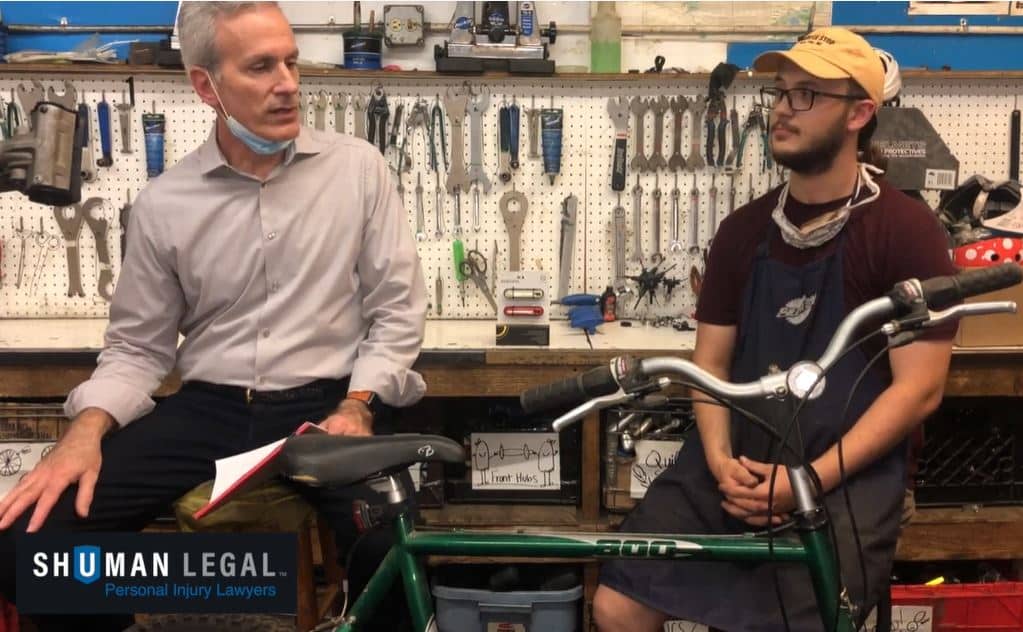 Bicycle Riding & Visibility Explained
Today we explore Bicycle Riding & Visibility, and a look at how visibility affects your safety when you are out on your bike – Marc in the community is all about Bicycle Riding & Visibility today!
Here at Shuman Legal®, we like to get engaged in the community and support safe practices. We are here for you when accidents or personal injuries happen; we are also here for you to help you stay safe!
We have partnered with West Town Bikes here in Chicago to create a series on Bicycle safety, this video interview session covers Bicycle Riding & Visibility, and to accompany the video we are also providing the transcription from Marc's interview with Eli Faber:
Below is the transcription of the Bicycle Riding & Visibility interview with Eli Faber, West Town Bikes head technician:
00:01 Marc Shuman: I'm Marc Shuman from Shuman Legal®, and we are at West Town Bikes in Chicago talking with Eli Faber, head technician, about bicycle safety. Hi again, Eli.
00:10 Eli Faber: Hi, good to see you again, Marc.
00:13 MS: Likewise. So today, we're talking about visibility. Do you recommend having reflectors or headlights on a bike to ride at night?
00:22 EF: Front and rear reflector is definitely a good idea. It's a basic option. More than a front and rear reflector, I always recommend getting a basic set of lights. A set of lights like this can greatly increase your visibility.
00:36 MS: And what is the difference between those? Is one meant for the front, and one for the back?
00:39 EF: That's right, this one that makes white light, it's meant for the front. The one that makes a red light, it's meant for the back.
00:48 MS: Are you aware, what is the law in Illinois in terms of whether or not you have to have reflectors?
00:52 EF: So in Illinois, you have to have a front light visible from 500 feet away, and a rear reflector that when a light shines on it, is visible from 600 feet away.
01:02 MS: And on bicycle helmets, do you recommend having a reflector or a light on the helmet?
01:07 EF: I do recommend putting a reflector or light on your helmet. It always increases visibility.
01:13 MS: Are there any particular types that you recommend?
01:15 EF: Some helmets have built-in lights, those are quite nice.
01:19 MS: Thank you very much.
01:20 EF: You're welcome.
There you have it! Some great advice and information on bicycle riding and visibility that we hope will lead to you having a more enjoyable and safer experience on your bike!
If you find yourself in a bicycle accident, we are here for you. As experienced personal injury attorneys well acquainted with Illinois Bicycle laws, our attorneys can help you evaluate the facts, assess your options, navigate the legal challenges, and advocate on your behalf.
Call 800.722.9744 Today to get FREE legal advice from the Shuman Legal® Team. 
---
Get Our Team, Working In Your Favor