How to Choose a Truck Accident Lawyer
Last updated Monday, August 28th, 2023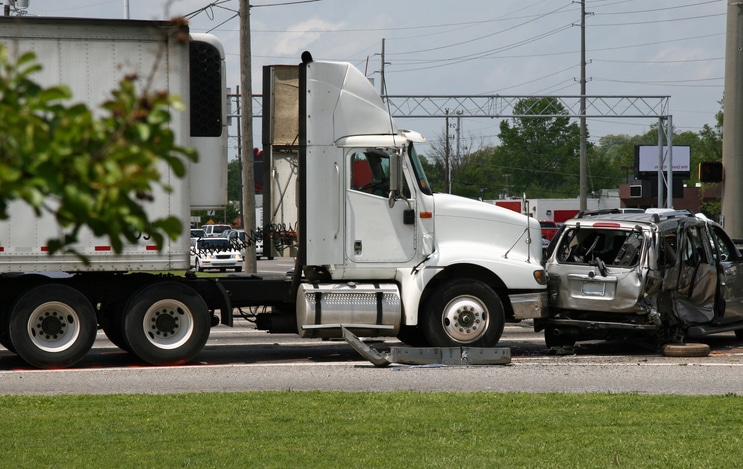 All lawyers are NOT the same and finding the right one can make a night and day difference in your truck crash case. There are many types of personal injury lawyers out there, so how do you choose? You may be wondering things like:
How do I choose the right lawyer for a truck accident lawsuit?
What type of lawyer can really help me?
How do I find the best lawyer for my specific case?
Can I afford to hire a lawyer?
Can I afford to live if I don't hire a lawyer?
Where do I even start?
These are normal and important questions to ask yourself. A little research can go a long way in helping choose the best legal person for your case. You need a lawyer who not only understands the laws and processes involved in these complicated cases, but one who is willing to listen to you, understands where you are coming from and will fight for your rights as a victim.
What it comes down to is that you need the best lawyer for the job and you need to feel comfortable with your choice.
My husband was killed in a truck accident…

"My husband was killed in a truck accident and now I've received an offer from the insurance company and it's not even enough to cover his medical bills. What do I do?" Watch this short video as Shuman Legal's Founder and Lead Attorney, Marc Shuman, answers this client's question:
The Most Important Qualifications to Look for in a Truck Accident Lawyer Include:
Legal experience in truck accidents
Cost. Are they affordable?
Trial experience, experience, and success rate
A complete understanding of your case and your expectations
What Experience Should a Truck Accident Lawyer Have?
Since truck accident cases are a very specialized style of case, it is important to look for a lawyer that has handled several similar cases in the past. Your lawyer needs to have the knowledge and resources to handle liability litigations against large trucking companies, truck manufacturers, and commercial insurance companies, to name a few. The best teacher has always been experience. In other words, an experienced truck accident lawyer is imperative.
Have you or a loved one been hurt in a Truck Accident?


An experienced Chicago truck accident attorney knows what needs to be done. The minute you sign with Shuman Legal® – we start working.
Recommendations and Referrals
Recommendations from past clients can give you excellent insight into the style and approach used by a prospective trucking accident lawyer. A competent law firm will happily provide referrals to prospective clients.
When conducting your own research, references and reviews are often located on a law firm's website. These references are a great source to check while doing your own research. Be sure to take your time and read what other commercial truck accident victims have to say about their satisfaction levels. Did they feel that the lawyer made things easy for them? Were they comfortable talking with the lawyer?
Another great resource for researching lawyers and law firms can be found in online reviews. Reviews and referrals on the law firm's website are excellent sources of information, but these aren't the only resources available. Google reviews, Yelp reviews, and other review services are also excellent tools to use, as these reviews are not regulated by the law firm but by the individual services. Online reviews are not associated with the law firm and are not editable or removable by anyone except the person leaving the review.
Since our law firm has been involved in many over-the-road trucking accidents in the past, we would be happy to provide a list of previous customers to call for a recommendation. Please feel free to request the information and we will have information in your hands in minutes. You can choose to have the information faxed to you or as a downloadable file.
What is the Lawyer's Success Rate?
One of the most important things to consider when choosing a lawyer is their success rate. No one wants to hire a mediocre attorney who doesn't have an arsenal of resources available. And you certainly don't want to be the practice model. You want someone who has a proven track record of trial and settlement wins in trucking accident cases.
Our law firm has a reputation for being the best in the business. We know how to win these types of cases and have the resources available to work hard for you. Our goal is to make this seemingly difficult task easy for you while remaining affordable at the same time.
The Drive to Fight for Your Compensation
Understanding the seriousness of the injuries and losses from a commercial truck accident is a huge driving force for the motivation to work tirelessly. You didn't choose this path in life and may understandably have strong emotions when thinking of the crash. Your lawyer not only has to understand your feelings of trauma… he or she must respect it, as well.
Understanding and empathizing with our clients is what makes us passionate about winning legal cases for our clients. We want you to be happy and will work tirelessly to make it as easy for you as possible.
Does My Lawyer Have Experience in Truck Accidents?
Truck accident cases are complex cases. Finding a lawyer who has had a successful track record in winning cases involving commercial vehicles is imperative. Often the defendants are large big rig companies that are well-versed in legal language. This type of case requires experience, and if the lawyer you are considering doesn't have that experience, it may be best to look elsewhere.
Does My Lawyer Know How to Prove Fault?
Proving fault is the cornerstone of a truck accident lawsuit. In order to begin the process of calculating compensation and liability, proving fault is the most important step.
If the lawyer is unable to prove who is at fault for the accident, there is nowhere to get a settlement. Proving fault is complicated and difficult at times, but having an experienced team in your corner can make or break your case, and affect your compensation or settlement amount.
What Does the Lawyer Charge?
Even though hiring an attorney to help with your truck accident case may sound expensive, many firms do not require an upfront cost at all. Most work on a contingency plan, which means they only get paid if they win your case.
Upon winning a case, the lawyer typically receives between 25% and 40% of the settlement. The cost varies from one firm to another, so negotiating the rate before signing on is very important.
---
Get Our Team, Working In Your Favor