Illinois Greyhound bus crash leaves three dead, 14 injured
Last updated Monday, July 17th, 2023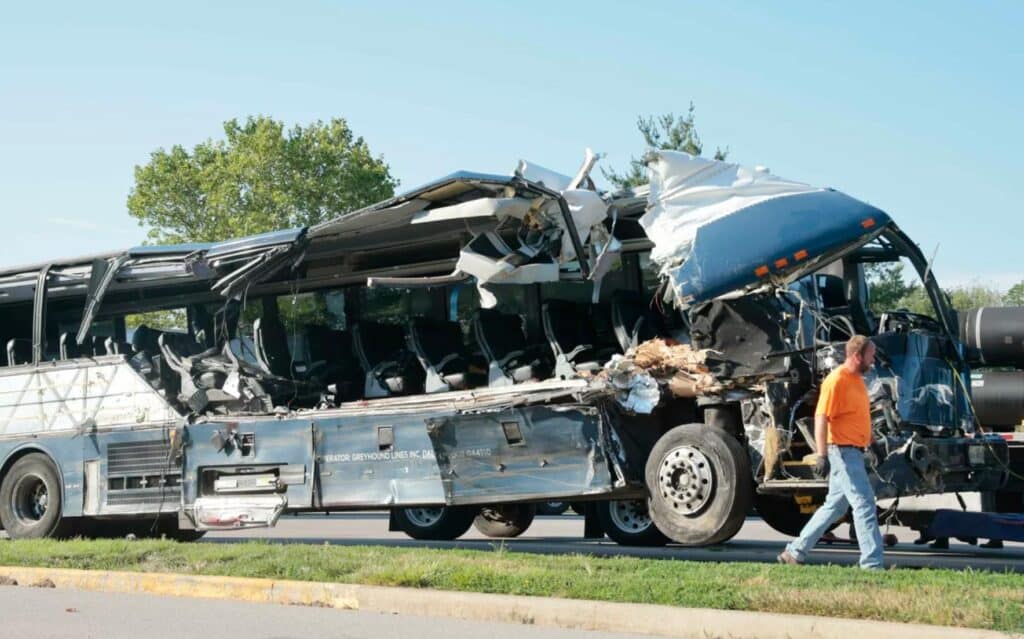 A devasting Illinois Greyhound bus crash near Highland, about 25 miles east of St. Louis, in southern Illinois on Wednesday, July 12, killed three and injured 14, including some seriously.
Illinois State Police say the wreck happened around 2:00 AM along Interstate 70 in Madison County when the St. Louis-bound bus crashed into three semis parked on a rest area exit ramp. Police spokesperson Melaney Arnold confirmed all the victims were on board the bus. 
The bus driver is in a hospital with grave injuries. As many as four people had to go to the hospital by helicopter, and at least ten others went by ambulance. Details about the injured and deceased were not immediately available. There was no injury to anyone in the three tractor-trailers. 
Police are investigating the crash, and more details should emerge soon.
We extend our deepest condolences to the grieving families in their time of loss. Our best wishes are with the injured. We hope they will recover quickly and successfully.
Lost a Loved One in a Car Accident?


Our team of Chicago car accident lawyers knows exactly what to do. Get Your FREE Legal Advice Today!
Exit ramp parking led to the Illinois Greyhound bus crash
It is illegal to park a truck on an exit ramp in Illinois. Nevertheless, trucking industry experts say semis often stop there for the night since overnight parking at rest areas and other places such as truck stops is hard to find. As a result, truckers nearing their hours have no choice but to find alternative overnight stops, most choosing exit ramps near rest stops.
The shocking Illinois Greyhound accident has everyone on edge. The National Transportation Safety Board is investigating what caused the bus to strike three parked rigs and looking at factors such as driver fatigue. A specific focus goes on trucks parked on exit ramps and their potential for catastrophic incidents.
There is no accurate estimate of how many accidents are caused by parked trucks nationwide, but studies in two states found alarming rates. California Department of Transportation released a study that found 1,626 crashes involved parked trucks, resulting in 131 deaths from 2014 – 2018. From 2013 to 2017, 2,315 accidents involving parked trucks caused 138 deaths in Texas, according to the Department of Transportation.
To prevent accidents, truck drivers should avoid parking on exit ramps and stop instead at designated rest areas, truck stops, or other secure locations that allow parking, making the roads safer for everyone.
If you suffered injuries or have lost a loved one in a truck accident in Illinois caused by an illegally parked truck, you may be entitled to compensation for your damages and injuries. However, the specifics of each case can vary, and it's essential to consult with a qualified attorney to get personalized advice based on your situation.
Consider consulting a Chicago truck accident lawyer to protect your rights and maximize your chances of receiving fair compensation. You can count on Shuman Legal's experienced legal team to assess the details of your case, guide you through the legal process, and assist you in pursuing the compensation you may be entitled to.
It's crucial to remember that Illinois has a statute of limitations, which is the time limit within which you must file a personal injury claim after an accident. You may lose your right to compensation if you exceed the statute of limitations.
Call Marc Shuman at (866) 986-0247, and we'll take care of everything so you can focus on healing from the nightmare.
---
Get Our Team, Working In Your Favor