Elmhurst head-on crash leaves one dead, three seriously injured
Last updated Friday, July 14th, 2023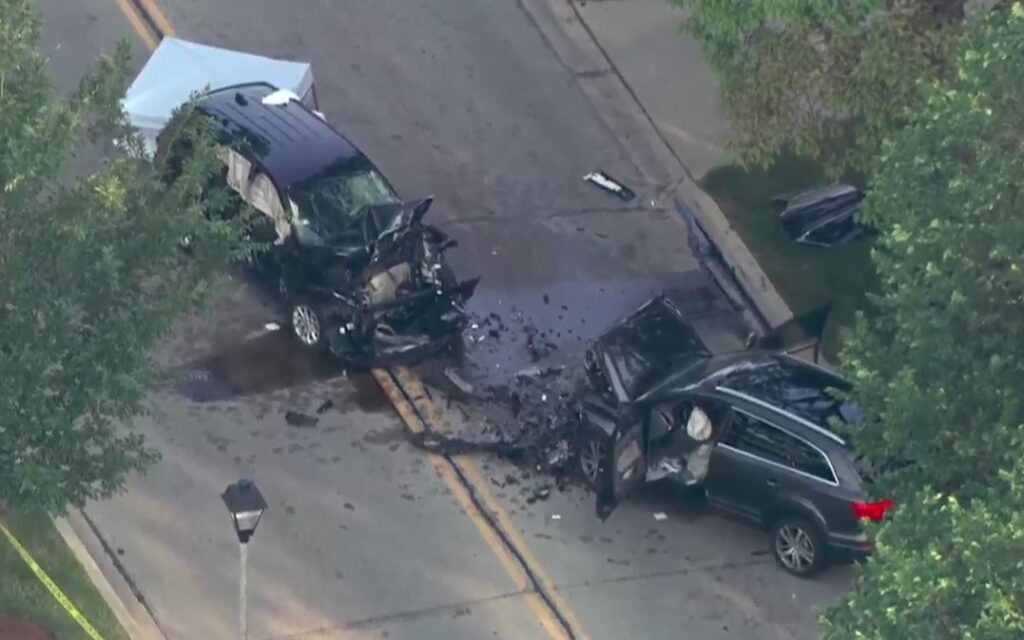 Three persons, including two kids, were seriously injured, and one woman was killed in an Elmhurst head-on crash Wednesday, July 5.
According to Illinois State Police, the serious crash occurred early morning, around 5 AM, near Road 2300 on St. Charles Road near Hill Avenue after an eastbound Chevy SUV ran over the center median and crashed into a westbound Audi SUV. First responders noticed both cars suffered heavy damage in the front.
The Chevy driver, a woman, was extracted from her SUV and pronounced dead at the scene. Two other passengers with her, a 4-year-old boy and a 2-year-old girl, suffered life-threatening injuries and were taken to Loyola University Medical Center. The Audi driver, another woman, also suffered severe injuries and was taken to Elmhurst Hospital. Authorities said the deceased's name won't be released until her family is informed.
Elmhurst police and the DuPage County Coroner's Office are investigating the crash and will share more information when it's available.
Our deepest condolences go out to the deceased's family during this difficult time. Our heartfelt wishes go out to the injured for a quick and complete recovery.
Lost a Loved One in a Car Accident?


Our team of Chicago car accident lawyers knows exactly what to do. Get Your FREE Legal Advice Today!
Elmhurst head-on crash causes death
It is no secret that Illinois experiences a high frequency of fatal car accidents. Many unfortunate victims have died or suffered life-threatening injuries because of devastating collisions across the state.
To reduce the number of fatal traffic accidents in Illinois each year, The Illinois Strategic Highway Safety Plan is focused on implementing safety initiatives through the Highway Safety Plan (to reduce alcohol and impaired driving use, protect vehicle occupants, and other behavioral programs), the Highway Safety Improvement Program (to improve roadway infrastructure safety), and the Motor Carrier Safety Assistance Program (trucking safety) to cut down on fatalities and traumatic injuries on Illinois roads.
Many of the causes of car accidents in Illinois are similar to those in many other states. While specific circumstances can vary, drivers can try and reduce the risks of accidents by driving attentively, obeying traffic laws, avoiding impaired driving, and adjusting driving habits to adapt to changing road and weather conditions.
A car crash victim in Illinois can seek compensation for their losses if they've suffered damages. Consulting with a seasoned Illinois attorney can provide powerful options you may otherwise not know about.
Our Illinois car accident lawyers have over 70 years of combined experience investigating and analyzing all the facts involved in over 25,000 accidents – we know how insurance companies will try to cheat you, and we won't back down from a battle! Our Chicago car accident lawyer is committed to defending your rights. 
If your family has endured a loss because of another's negligence, our attorneys will push hard to get you the compensation you deserve.
Call Marc Shuman at (866) 986-0247, and we'll take over your case while you focus on your family and recovery.
---
Get Our Team, Working In Your Favor