4 Causes Of Summertime Crashes
Last updated Monday, August 2nd, 2021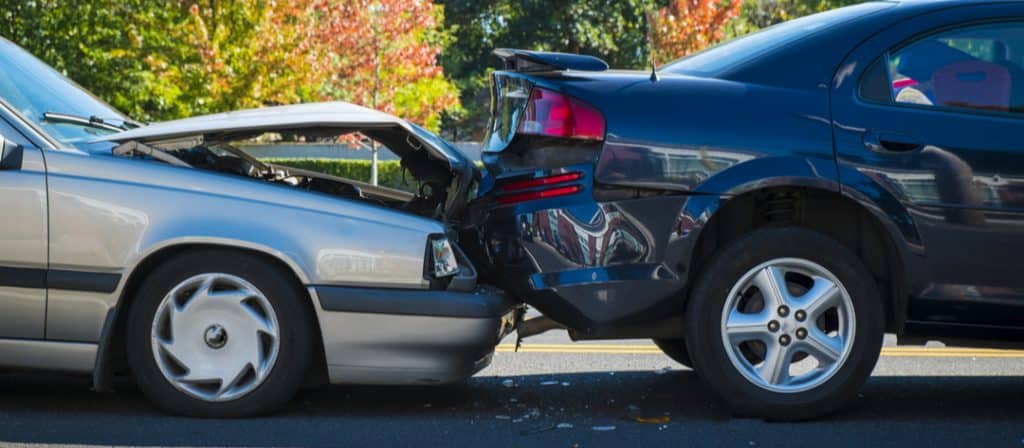 About Summertime Crashes
The clear skies, long days, and lack of ice and snow may convince drivers that summer driving is far safer than winter driving. This simply isn't true as statistics show that August is the deadliest month for drivers with 2,747 deaths reported by the National Highway Traffic Safety Administration in 2015. Although the winter months may seem more perilous, during the summer there are several factors that contribute to a greater number of crashes.
These Factors Include The Following
1. More traffic – Many people plan their vacations for the summer, hitting the road when their children are out of school. The greater number of people on the road increases the chances that an accident will occur.
2. Construction – Government and other organizations often embark on road improvements or other construction projects in the summer. These can pose hazards to drivers. Blocked off sections of road, heavy equipment entering and exiting highways and other construction-related factors can contribute to wrecks.
3. Tire blowouts – Hot summer temperatures and construction debris increase the likelihood of tire blowouts, especially on well-worn tires. Drivers should replace worn tires and properly maintain their tires to reduce their likelihood of a blowout.
4. Brighter Sunlight–Direct sunlight during the day may cause glare making driving more difficult.
18 Tips For Staying Safe Behind The Wheel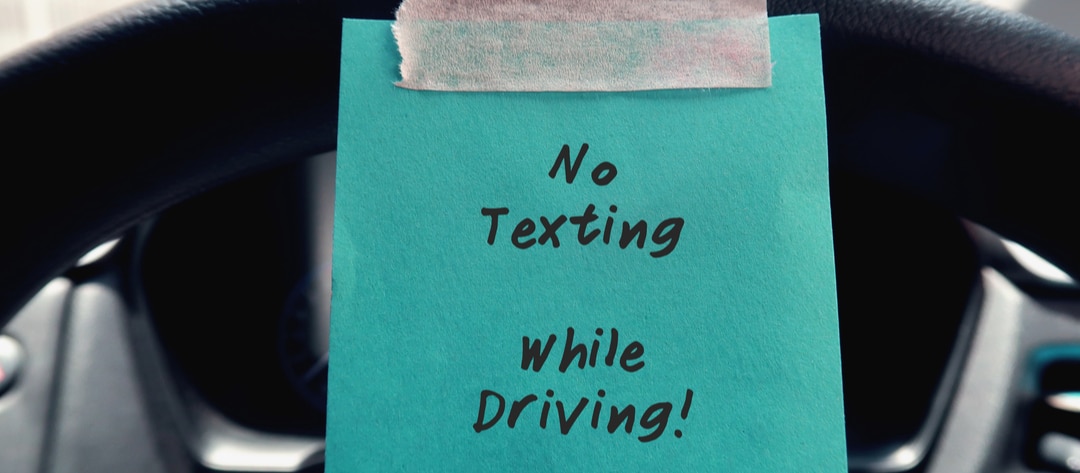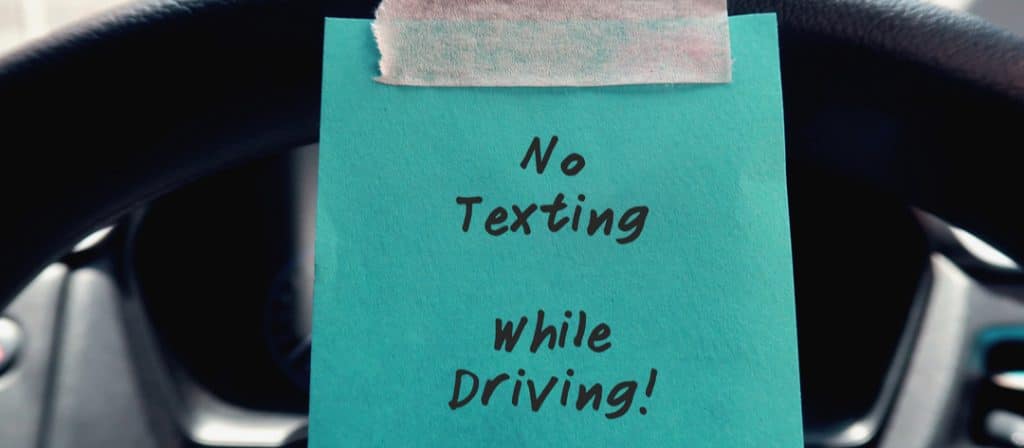 While preventing accidents is not entirely possible, there are several things you can do to increase your safety while you're driving and reduce the likelihood of being involved in an accident. Here are 18 tips for staying safe behind the wheel.
1. Adjust all mirrors and seats before driving and verify you can clearly see around you.
2. Avoid distractions, like text messaging, and remain focused on your surroundings and vehicles near you.
3. On two or more lane highways, remain in the right-hand lane unless you are passing.
4. Also, make sure you keep sufficient space between you and the vehicle in front of you, allowing ample time to stop without hitting the other car.
5. Always use your turn signals for lane changes and turning to let other drivers know your intentions.
6. Also, never make lane changes in intersections.
7. Slow down when approaching intersections to give yourself sufficient time to stop if the light changes or there is a pedestrian crossing the road.
8. Give pedestrians the right of way when turning left or right.
9. While driving, be courteous toward other drivers.
10. Do not get mad if another driver cuts you off or is driving poorly.
11. Do not repeatedly look at your phone.
12. Very importantly, do not hold your phone while driving. If you must talk, use Bluetooth.
13. Do not make a right-hand turn in front of a bus.
14. Make a full 3 second stop at a red traffic light before turning, if allowed. That will save you from receiving a $100 red light ticket.
15. Wear your prescription glasses if you need them for distance vision.
16. Watch out for stopped school buses.
17. Do not speed in school zones.
18. Finally, make sure to replace your wiper blades so that they are in good working order when you really need them.
While all these suggestions seem obvious, accident statistics have shown how often people fail at doing them. However, if you are involved in an accident that was not your fault and has sustained personal injuries, it's in your best interest to discuss your rights and options with a qualified auto accident lawyer as soon as possible.
Five Things You Must Do After A Chain Reaction Crash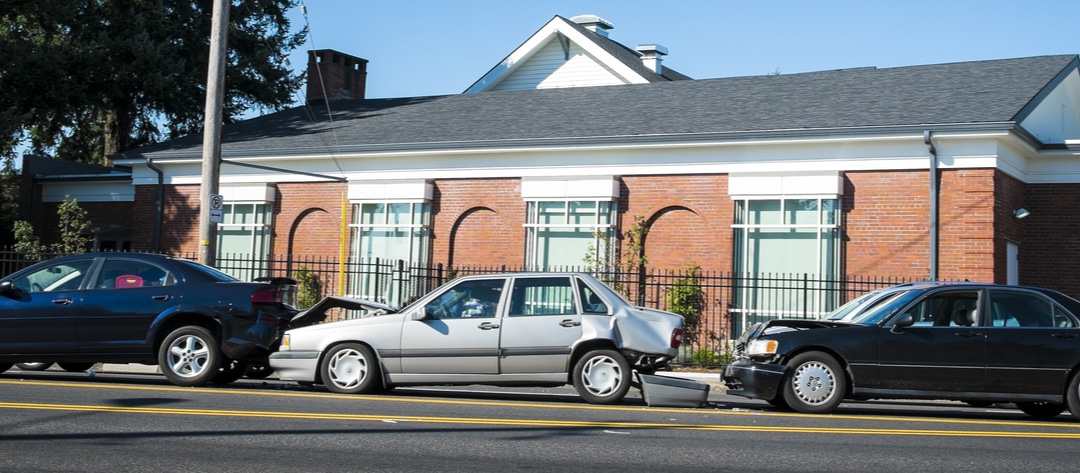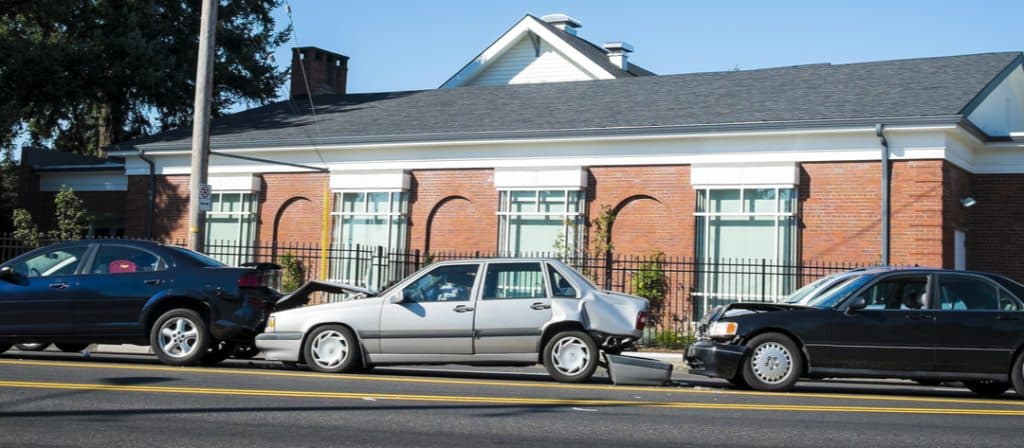 A chain reaction crash is a crash where one vehicle striking another causes one or both of those vehicles to strike other vehicles. This can result in horrific injuries and property damage and it often takes an accident lawyer to sort out conflicts among insurers to get victims the compensation they're owed.
Because chain reaction crashes involve more than one vehicle and because the vehicles involved can be traveling in differing directions, these crashes can result in major damage, also putting occupants at high risk of injury. In 2015, 58 percent of car occupant deaths in crashes of sedans and compacts occurred in multiple-vehicle crashes. Occupants of larger vehicles fare better in these crashes.
If you become involved in a multiple-vehicle crash, ensure your safety and protect your rights by following these steps:
Exit the vehicle safely as soon as possible. You do not know the condition of the other vehicles; one may have a gas leak that could cause an explosion.
Make sure everyone involved in the accident is okay and summon first-responders if necessary.
Do not admit fault. That's up to the police and the courts to decide.
Get everyone's license plate and contact information.
Discuss your case with a car accident lawyer. Chain reaction crashes can be tricky because of the multiple vehicles and drivers involved, and insurers may try to deny claims on flimsy grounds. An attorney can help you determine whether you have a claim and what your next steps should be.
Rollover Accidents: Their Causes & What You Should Do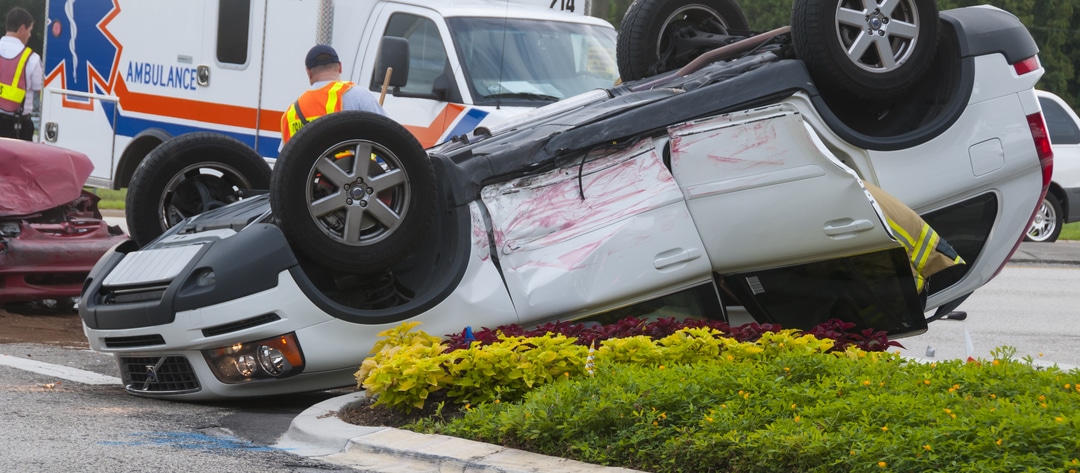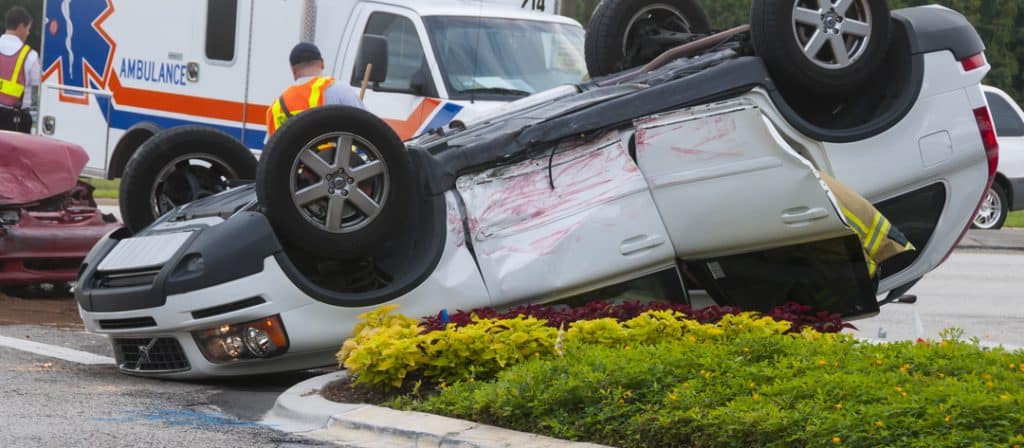 Rollover accidents can be extremely traumatic. While they are relatively rare compared to other types of collisions, the chances of dying or sustaining serious injury are actually higher. Although rollovers accounted for only 2 percent of crashes involving SUVs, vans, and pickups, they nonetheless led to 35 percent of the fatalities from passenger vehicle collisions. (1)
People who have sustained injuries in rollover car accidents often face months if not years of recovery time. Of course, added to this are substantial medical bills and lost income from missed work. Therefore, given the serious nature of such incidents, it's important to educate yourself about your legal rights.
In many cases, victims of car rollover accidents have a right to legal compensation. Of course, your ability to sue for damages depends on the cause of the accident. Plus, your involvement in the crash. If you were a passenger in someone else's vehicle for example and driver error was to blame for the rollover, then you might be able to sue the driver for damages.
What Causes Rollover Accidents?
Rollovers are often the result of a combination of factors. According to the National Highway Traffic Safety Administration's (NHTSA) data on rollovers, some of the major reasons that vehicles tip over include:
Speed – Approximately 40 percent of all fatal rollover crashes were the result of excessive speeding.
Alcohol – Almost half of all crashes involved alcohol.
Location – Nearly three-fourths of all rollovers occurred on rural roads where barriers are few and far between.
Vehicle – The vast majority of rollovers involved vehicles with a high center of gravity such as SUVs, vans, and pickups.
SUV Safety Ratings
Many experts have pointed to basic design flaws in SUVs as the reason for the high mortality rate connected with rollover accidents. Not only are SUVs more prone to tipping, but all too often the roof collapses upon impact. This is mainly due to their high center of gravity and narrow track width. This is the width between the left and right tires.
However, the roof collapse alone can account for many of the most serious and even fatal injuries sustained in rollover car accidents.
Since 2001, the NHTSA has included a rollover rating system in its SUV car safety rating reports. In addition to general auto safety ratings, the rollover ratings take into account a vehicle's center of gravity, track width, and accident history.
Given the prevalence and seriousness of SUV rollovers, auto manufacturers may share some of the blame for the high injury rate. If poor construction, design flaws, or a lack of safety features contributed to the accident itself or to the seriousness of the injuries, you may be able to hold the vehicle manufacturer liable for the crash.
What Should I Do If I've Been Involved In A Rollover Accident?
If you've sustained an injury in a vehicle rollover, you should contact an accident attorney as soon as possible. Only by securing expert legal help can you hope to recoup the financial damages. This will allow you to put yourself on the road to full medical and financial recovery.
Reckless Driving Accidents: What To Do If You're Involved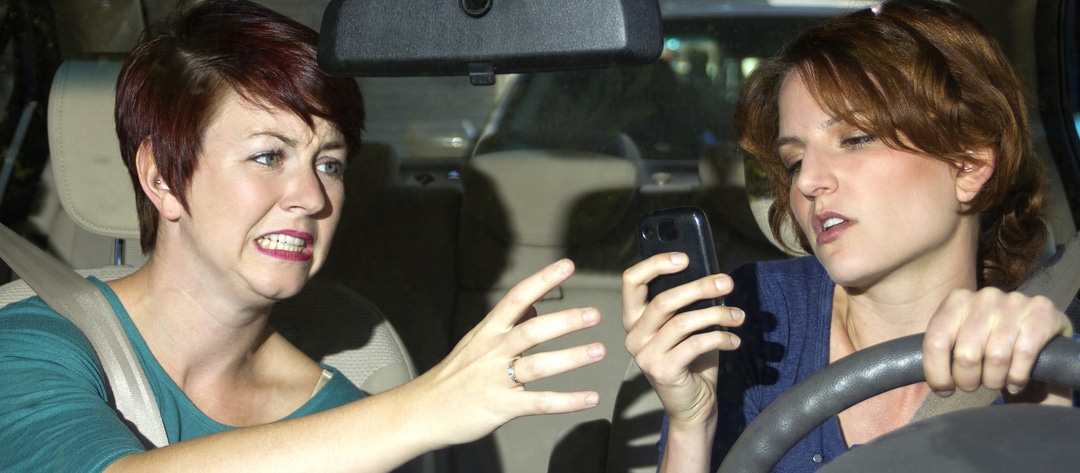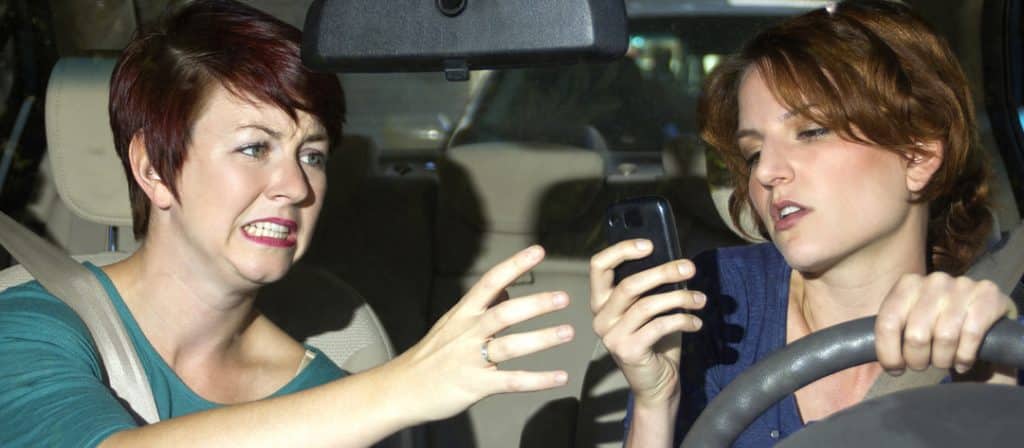 Reckless driving accidents can result in personal injuries that can stop you from working. Plus these injuries can leave you financially drained and facing bankruptcy if you're unable to meet your financial commitments. Imagine the following scenario:
You're driving on the expressway, going with the flow of heavy but steadily-moving traffic when you see a driver in your rearview mirror frenetically cutting in and out of lanes trying to get ahead. To your dismay, he ends up behind you. The tailgater is so close you can't even see his front bumper.
He starts flashing his lights at you, motioning you to move out of his way but there's nowhere for you to go. You put distance between you and the car in front of you to reduce the chances of being rear-ended by the tailgater which seems to make him even angrier. Then the worst happens. Traffic comes to a screeching halt and you hit your brakes. The tailgater—just inches from your bumper—crashes into you.
The next thing you know you're dealing with whiplash or even worse, you're out of work from your physically-demanding job and the medical bills are mounting.
What Is Reckless Driving?
Most accidents are caused by simple negligence or inexperience rather than blatant disregard for others. In these "at-fault" cases, the person who caused the accident must take responsibility for any injuries and property damage they cause.
Reckless driving accidents are different. In these cases, the driver does not care about putting others at risk. He or she brazenly breaks the law, often driving 20 or 30 miles over the speed limit, weaving in and out of lanes and even uses turning lanes and shoulders to pass other drivers.
The law considers this kind of willful disregard for others as recklessness. This is a misdemeanor crime in the state of Illinois. In cases where reckless driving results in bodily harm, disfigurement or disability to others, reckless driving charges may include any or all of the following:
Reckless driving ticket and/or other fines
Driver's license suspension or revocation
Imprisonment
Victims Of Reckless Drivers
But what about the victims of reckless drivers? Who pays for their medical bills and their lost time at work? What if a person becomes disabled or disfigured because of a reckless driver? This is where an experienced car accident lawyer can be a tremendous help.
The courts weigh the specific circumstances of each individual case to determine whether a driver was acting recklessly. These include factors like the time of day the accident occurred and the speed limit. The weather conditions at the time (e.g. whether it was raining, whether the roads were icy, etc.) are also taken into consideration. Additionally, so are the driver's familiarity with the area and other factors.
An experienced attorney who is familiar with state laws regarding reckless driving can help show that the reckless driver in your case knew or should have known that their driving was not safe. Additionally, he/she can prove that the reckless driver posed a risk to themselves or others with their driving.
Personal injury attorneys can help drivers involved in crashes where another driver may be at fault. Accident lawyers can help crash victims get the compensation for medical bills, lost wages, and pain and suffering that they deserve.
IF YOU OR SOMEONE YOU KNOW HAS BEEN INVOLVED IN AN ACCIDENT
CALL (800) 722-9744 NOW
To Speak To An Experienced Injury Lawyer FOR FREE.
Since 1996, the Law Offices of Shuman Legal has been helping accident victims, all injured victims, and their families, navigate the complex legal process. As experienced personal injury, worker's compensation, auto accident, and wrongful death attorneys, we can help you evaluate the facts, assess your options, and navigate the legal challenges on your behalf.
With over 77 combined years of experience advocating for in excess of 20,000 injury victims and their families, we have recovered over 50 million dollars on their behalf. We advocate on your behalf so you can focus on the task of recovery.
We serve clients all over the Greater Chicago Area, the State of Illinois and Northwest Indiana. CALL (800) 772-9744 TOLL-FREE NOW for your FREE consultation.
Sources: (1) http://www.safercar.gov/Vehicle+Shoppers/Rollover/Causes
---
Get Our Team, Working In Your Favor